Global Markets A "Sea Of Green" After Trump Temporarily Eases Huawei Restrictions
ZeroHedge.com
It's not exactly clear what prompted today's dramatic U-turn reversal in overnight markets, but this morning stocks and futures around the globe are a sea of green with chipmakers and Asia-exposed stocks among the best performers, with some pointing the finger at Washington's decision to temporarily ease trade restrictions imposed last week on China's Huawei even though the move was largely procedural, while the trade-war driven turbulence that has dominated markets showed no signs of abating.
S&P and Nasdaq futures all traded in the green after the U.S. granted limited relief for consumers and carriers using Huawei Technologies, a day after the White House's moves against the Chinese telecom giant battered stocks. The result has been the biggest monthly drop in the Semiconductor Index – which confounded so many with its oblivious levitation in the first 4 months of 2019 – as traders finally realized that pain is coming.
The overnight respite came after news on Monday that Washington allowed Huawei to purchase American-made goods to maintain existing networks and provide software updates to existing Huawei handsets until Aug. 19. What happens next is unclear.
"The Huawei extension is in some sense providing a relief rally as it eases the worst fears of market participants that we are drifting towards a fully-fledged trade war," said Aberdeen Standard's head of global strategy, Andrew Milligan.
Extension aside, an angry China continues to dig in, and overnight Beijing warned about "unwavering resolve" to fight U.S. "bullying," saying it could retaliate after U.S. President Donald Trump blacklisted Huawei.
In Europe, the STOXX 600 edged higher, with Germany's DAX rising 0.6%, while France's CAC 40 climbed 0.2% in early trading, while tech firm lead the advance. Chipmakers Infineon and STMicro were up 1.4 to 3.5%, and the tech sector rising more than 1% after losing almost 3% on Monday. The autos and suppliers sector was another top gainer, up as much as 1.1%. In London, heavyweights HSBC, Prudential and Standard Chartered boosted the blue-chip index as markets on hopes if an easing in the trade tensions. Daimler got a boost after German newspaper Handelsblatt reported the company was looking to cut administration costs by 20%. Elsewhere, Italy's biggest phone group Telecom Italia led gainers on the STOXX 600 after posting first-quarter earnings in-line with expectations and confirming its guidance for the next three years.
Chinese equities had the strongest gains in the Asian session, with the Shanghai Composite up 1.23% and the CSI300 index ended 1.35% higher, while their Japanese peers ended lower. Gains in heavyweight Samsung Electronics helped South Korea's KOSPI stock index close up 0.3% as traders speculated the chip giant may benefit from Huawei's need to shift away from American suppliers. Meanwhile, traders ignored the latest disastrous trade print from South Korea, which reported a -11.7% plunge in total exports and a 33% crash in chip exports, confirming that the trade war is only getting worse by the day.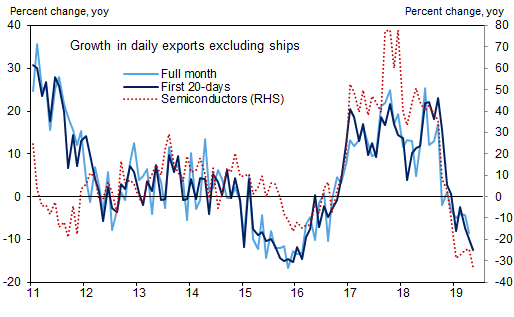 Still, the situation remains fluid and just one hastily worded tweet threatens to collapse confidence. "Equity markets remain hostage to developments in the ongoing US-China trade battle," said Rupert Thompson, head of research at Kingswood. "We still believe some kind of deal will eventually be reached – most likely at a Xi/Trump meeting at the G20 Summit in late June."
Despite the overnight rebound in optimism, overall sentiment continues to deteriorate: "The world of G-10 believes that things get fixed. This is what economists tell them, and so they do not see a reason to panic,"said Sebastien Galy, senior macro strategist at Nordea Investment Funds SA in Luxembourg. "Volatility is set to stay, though it need not mean that equities are always to the downside," pending clarity on U.S.-China talks before next month's G-20 summit, he added.
In FX, cable fell below $1.27 for the first time since mid-January, hit by dollar strength and expectations that Prime Minister Theresa May will fail to persuade cabinet colleagues to back an amended version of her Brexit withdrawal deal. As Reuters notes, the pound slipped 0.2% to $1.2688 while against the euro it was down 0.14% to a new four-month low of 87.88 pence.
Elsewhere, the U.S. dollar advanced against most of its G-10 peers, with the Australian dollar seeing the biggest declines. The Aussie slid, wiping most of the previous day's advance, after RBA Governor Philip Lowe said he'll consider cutting interest rates at next month's meeting to spur faster hiring, pushing the Aussie dollar lower half a percent to $0.6873. Most other G-10 currencies were range bound ahead of a slew of risk events this week, including minutes of the Federal Reserve's latest meeting and a potential response from China. In EM, the outlier was the Turkish lira which stayed lower after the country's central bank effectively lowered its main interest rate, undoing a limited tightening of policy
Oil prices edged higher on U.S.-Iran tensions and amid expectations that producer club OPEC will continue to withhold supply this year. Brent crude futures, the international benchmark for oil prices, were at $72.18 per barrel up 21 cents, or 0.3 percent, from their last close.
Expected data include existing home sales. AutoZone, Home Depot, and TJX are among companies reporting earnings.
Market Snapshot
S&P 500 futures up 0.3% to 2,853.00
MXAP down 0.3% to 153.91
MXAPJ down 0.1% to 503.15
Nikkei down 0.1% to 21,272.45
Topix down 0.3% to 1,550.30
Hang Seng Index down 0.5% to 27,657.24
Shanghai Composite up 1.2% to 2,905.97
Sensex down 0.6% to 39,127.68
Australia S&P/ASX 200 up 0.4% to 6,500.14
Kospi up 0.3% to 2,061.25
STOXX Europe 600 up 0.4% to 379.09
German 10Y yield unchanged at -0.087%
Euro down 0.2% to $1.1144
Italian 10Y yield rose 4.0 bps to 2.327%
Spanish 10Y yield fell 0.4 bps to 0.88%
Brent futures down 0.3% to $71.77/bbl
Gold spot down 0.2% to $1,275.22
U.S. Dollar Index up 0.2% to 98.11
Top Overnight News:
China has warned about "unwavering resolve" to fight U.S. "bullying," saying it could retaliate after U.S. President Donald Trump blacklisted Huawei. The U.S. restrictions on Chinese telecom giant Huawei threatens to snuff out a nascent recovery in semiconductor demand, a key driver of economic growth in technology powerhouses including South Korea and Taiwan
Trade tensions have derailed the global economy, plunging it onto a low-growth track that's clouded by risks, according to the OECD's latest outlook. The report sticks to the gloomy tone long held by the Paris-based organization, which has warned that trade disruptions could ricochet throughout the world economy
For overseas investors, a weaker Chinese currency is the latest factor making yuan-denominated assets less attractive. They've been selling mainland-listed stocks at a record pace and their demand for Chinese bonds has been relatively tepid
Hong Kong is set to price its first ever green bond denominated in dollars on Tuesday, to become the second Asian government after Indonesia to raise such debt
Angela Merkel is preparing for a clash with France as she pushes Germany's most ambitious bid yet for a top European Union job. The German chancellor is focused on securing the presidency of the European Commission or the European Central Bank for one of her compatriots, according to officials with knowledge of her thinking
Continue reading at: https://www.zerohedge.com/news/2019-05-21/global-markets-sea-green-after-trump-temporarily-eases-huawei-restrictions