Was WordPress.com really a setup from the start?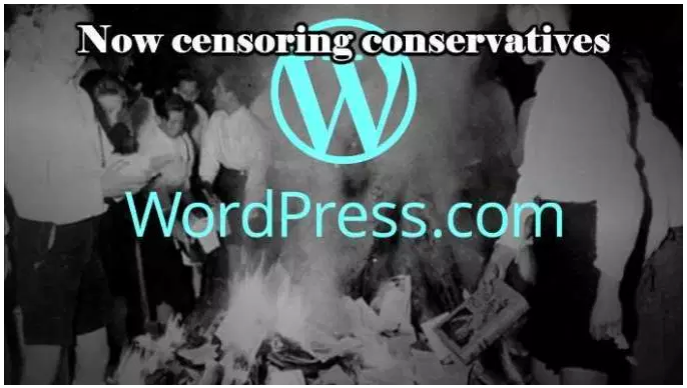 Starting this May of 2019, WordPress is on a mission to summarily delete any and all websites that post too much truth or are conservative in their content.
SOTN has now received several notices from our readers that many free WordPress.com websites are being deplatformed without warning.
Here are just 3 of those notices:
https://jonrappoport.wordpress.com/
https://seeker401.wordpress.com/
https://ourgreaterdestiny.wordpress.com/
One day you're posting away with wanton abandon, the next day your site is gone.  As is the library of content that you created and is yours to possess.
Many folks are unaware that they own their content.  Yes, WordPress can unilaterally shut down your blog — without cause — according to their flaky Terms of Service, but they cannot steal your content.
Therefore, it's of paramount importance that every WordPress blog owner reclaim what WordPress would love to steal and trash.
Here's how that can be done.   This excellent advice was offered by one of our key network collaborators who just lost their WordPress.com site without warning.
---
If your WordPress Blog was suspended or you suspect it may be suspended here's what you can do now.
To keep your extensive library of information alive, there is a simple process to migrate [transfer] an entire WordPress Blog to another host provider. The following applies to GoDaddy 1 866 938 1110 or http://godaddy.com
You can EXPORT 'all' or segments of your existing WordPress Blog whether it is suspended or not.  
In your WordPress Blog, the EXPORT feature saves your existing WordPress Blog content to a folder on your computer as an XML file.
If you EXPORT 'all' this includes your WordPress Blog 'Theme' and content with some 'big' exceptions.
Know your WordPress Blog 'Theme' or select a new 'Theme' before migration.
After you EXPORT 'all' or parts of your existing WordPress Blog to your computer, you are ready to migrate to another host provider.
GoDaddy offers a basic WordPress Blog hosting service that requires you to manually migrate your existing WordPress Blog content. It's simple and fast.
First, register a Domain name for your new basic WordPress Blog.
Ask GoDaddy technical support to assist with migration to simplify and ensure accuracy.
Once you synchronize elements at GoDaddy, in Admin at your new basic WordPress website the WordPress IMPORT feature will migrate the XML file on your computer to the new basic WordPress Blog website. Each XML file needs to be migrated on its own.
When you migrate to a basic WordPress Blog website there are fewer widgets, no SUBSCRIBE feature, which can be purchased separately from GoDaddy referred to as 'Email Marketing – Up & Running', and no SUBSCRIBER LIST.
If you have a live WordPress Blog now find the list of all SUBSCRIBER emails, copy, paste, and save it, to notify Subscribers of your new basic WordPress domain name and URL after you migrate to a new host provider.
Tutorials are available at your new basic WordPress Blog website to maximize functionality.
---
SOTN experience
We have noticed that a number of our previous WordPress.com sites were also disappeared from the Internet without our knowledge.  We never terminated them; nor did we permit WordPress to take them down.  Nevertheless, the following screenshots clearly indicate what WordPress is up to.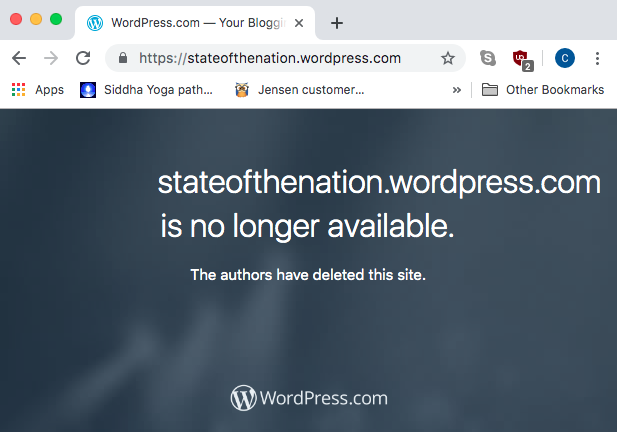 ---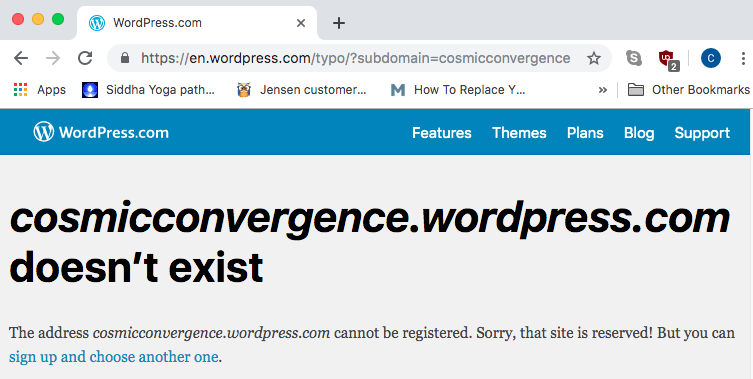 Moral of the story
The moral of the story here is that if you currently operate a free WordPress.com website, it behooves you to set up a paid site asap far from the long arm of WordPress.
This ought to be done immediately as WordPress has been completely taken over by the thought police.  After all, who was not aware that there really is no free lunch.  And if you did, you are about to pay for that free lunch—BIG TIME!
Everyone in the Alt Media should vacate the WordPress premises post-haste for their serious blogs.  Alt Right news platforms should have left the WordPress reservation years ago.
Because many folks will get caught off guard with this outright act of censorship by WordPress, they will unthinkingly neglect to acquire their valuable content.
Hence, we post this short piece to alert people to be sure to take advantage of the opportunity to transfer your content from a terminated WordPress.com platform to a website owned wholly by you.
If you don't do this with a specified time frame, you lose it all.
Please, everyone, disseminate this RED ALERT to all who may be affected by this outrageous violation of the Second Amendment.  Thank you!
---
Now for the sixty-four thousand dollar question:
Was WordPress.com really a setup from the start?
We welcome everyone's feedback on this matter.
---
State of the Nation
May 16, 2019