Gov. Scott: Dem Sen. Nelson 'Confused' About Fla. Recount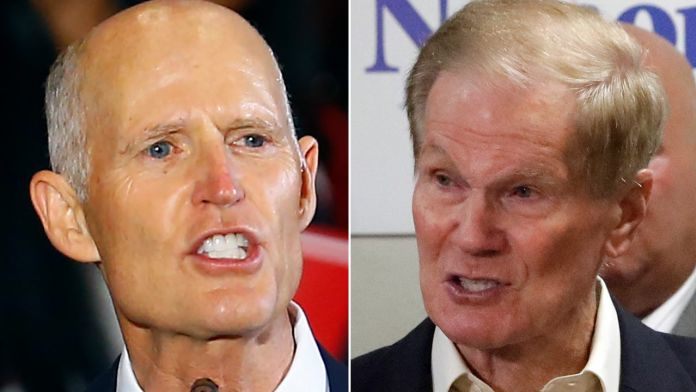 By Cathy Burke
NEWSMAX
Florida GOP Gov. Rick Scott— holding the lead in a U.S Senate race so tight it triggered a recount — dismissed as "confused" a call Monday by his opponent, incumbent Sen. Bill Nelson, D-Fla., to stay out of the matter.
In an interview on Fox News' "The Story With Martha MacCallum," Scott noted Nelson's conflict-of-interest concern is misplaced because "the governor is not responsible for recounts."
"It's pretty consistent for Bill Nelson — he's always confused," Scott said.
"My goal is that we follow the law," he added. "What we've seen is the Supervisor of Elections in Broward and Palm Beach county, both of them, the courts have said that they have not followed the law. . . . What I'm trying to do is get them to do what we expect."
Scott claims 93,000 votes came in after the vote-count deadline last Tuesday, and it is still a mystery as to where they came from.
"My goal is to make sure that this is done properly," he said. "That's why I've asked the FBI to come in and do an investigation, the attorney general demanded that happened. I've asked the sheriffs to be vigilant. We want to make sure we have a free and fair election."
Scott was vague when asked if he would show up in Washington Tuesday for a picture with Senate Majority Leader Mitch McConnell, R-Ky.
"I will be part of the elections leadership, so I look forward to starting the process, opening up an office, getting started as a U.S. Senator," he responded.
___
http://www.newsmax.com/newsfront/rick-scott-bill-nelson-florida-recount/2018/11/12/id/890402/