WHITE HOUSE REVOKES PRESS PASS FOR CNN'S JIM ACOSTA
'This conduct is absolutely unacceptable'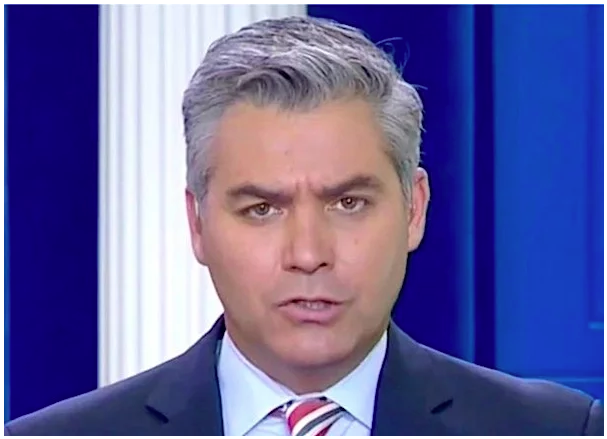 Joe Kovacs
WND.com
In the wake of the epic news-conference showdown between President Trump and CNN's Jim Acosta, the White House late Wednesday suspended the reporter's press credentials, effectively banning him from White House access.
"I've just been denied entrance to the WH," Acosta said on Twitter. "Secret Service just informed me I cannot enter the WH grounds for my 8pm hit."
The action is being taken after Acosta's interaction with a White House press aide who tried to remove the microphone from his hands as he tried to ask Trump a second question during the post-election news event.
"President Trump believes in a free press and expects and welcomes tough questions of him and his administration," said Press Secretary Sarah Sanders. "We will, however, never tolerate a reporter placing his hands on a young woman just trying to do her job as a White House intern."
She continued: "This conduct is absolutely unacceptable. It is also completely disrespectful to the reporter's colleagues not to allow them an opportunity to ask a question. President Trump has given the press more access than any president in history. Contrary to CNN's assertions, there is no greater demonstration of the president's support for a free press than the event he held today. Only they would attack the president for not supporting a free press in the midst of him taking 68 questions from 35 different reporters over the course of 1.5 hours including several from the reporter in question. The fact that CNN is proud of the way their employee behaved is not only disgusting, it's an example of their outrageous disregard for everyone, including young women, who work in this administration. As a result of today's incident, the White House is suspending the hard pass of the reporter involved until further notice."
Reacting to Sanders' statement Wednesday, Acosta said: "This is a lie."
He also pinned a tweet from October 29 to his Twitter page, apparently addressing President Trump, as he said: "We are not the enemy of the people. I am not your enemy. You are not my enemy. It is wrong to call your fellow Americans the enemy. We are all on the same team. We are all Americans."
As WND reported earlier Wednesday, the conflict between the establishment media and the president reached new heights with Acosta trying to "challenge" and bully the president, to which Trump responded by calling the reporter "rude."
Acosta started out by saying he was challenging Trump's description of a caravan of migrants coming from Guatemala and Honduras, intent on entering illegally to request asylum, as an "invasion."
"It's not an invasion," Acosta instructed Trump at a White House news conference focused on the results of the midterm elections.
"Thank you for telling me that," Trump said. "I consider it an invasion. You and I have a difference of opinion."
Acosta then badgered the president, asking, "Did you demonize immigrants?"
Trump explained he wants immigrants to come to America, because its expanding economy needs the workers, but they need to come legally.
Frustrated by Acosta's criticism of a campaign ad, Trump finally said: "You should let me run the country and you should run CNN. If you did it well your ratings would be much better."
He moved to another reporter, but Acosta refused to turn over the microphone.
"That's enough. That's enough," Trump said.
When Acosta asked about the "Russia investigation," Trump said, "It's a hoax. Put down the mic."
Trump continued: "CNN should be ashamed of themselves having you working for them. You are a rude, terrible person. You shouldn't be working for CNN."
Acosta tried to interrupt, saying Trump was being unfair.
"The way you treat Sarah Huckabee is horrible," Trump said. "The way you treat other people is horrible. You shouldn't treat people like that."
Acosta still refused to quit badgering, prompting Trump to say: "Just sit down please. When you report fake news, which CNN does a lot, you are an enemy of the people."
"This conduct is beyond reprehensible," said Sean Hannity on his Fox broadcast Wednesday night. "Imagine anybody doing this to Obama."
Mark Levin of CRTV told Hannity CNN's behavior at the news conference was a reaction to the Democrats' worse-than-expected performance on Election Day.
"They are furious this blue wave was a blue tinkle," Levin said. "I am sick and tired of these media types trying to hijack these press conferences. … CNN, you don't even have an audience. … You're humiliating yourselves, you're embarrassing yourselves … because you act like the enemy of the people."
Fox News' Chris Wallace called Acosta's behavior "shameful."
"I've never seen anything like it," Wallace said.
Talk-radio host Rush Limbaugh said the confrontation was "a microcosm of the media's relationship with Trump from the get-go."
"It was filled with disrespect and effrontery. … Acosta did try to take over the entire press conference."
___
http://www.wnd.com/2018/11/white-house-revokes-press-pass-for-cnns-jim-acosta/#LlbiSk5gUxztzCFF.99