New Strzok-Page Texts Discuss FBI "Media Leak Strategy" Within Hours Of Washington Post Bombshell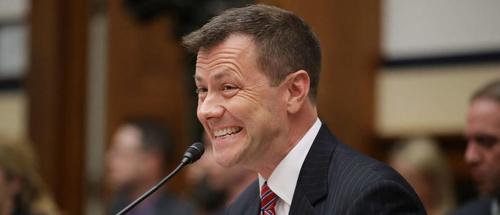 ZeroHedge.com
Newly released text messages between disgraced FBI agent Peter Strzok and former FBI attorney Lisa Page regarding a "media leak strategy" have come under intense scrutiny, as they were exchanged one day before and one day after a bombshell Washington Post article during a critical point in the Trump-Russia investigation, reports Sara Carter and the Daily Caller's Chuck Ross.
The text messages, revealed Monday by Rep. Mark Meadows (R-NC) and sent the day before and after two damaging articles about former Trump campaign adviser Carter Page, raise "grave concerns regarding an apparent systematic culture of media leaking by high-ranking officials at the FBI and DOJ related to ongoing investigations." 
Recall that Strzok's boss, former FBI Deputy Director Andrew McCabe, was fired for authorizing self-serving leaks to the press.
Also recall that text messages released in January reveal that Lisa Page was on the phone with Washington Post reporter Devlin Barrett, then with the New York Times, when the reopening of the Clinton Foundation investigation hit the news cycle – just one example in a series of text messages matching up with MSM reports relying on leaked information, as reported by the Conservative Treehouse.
♦Page: 5:19pm "Still on the phone with Devlin. Mike's phone is ON FIRE."

♥Strzok: 5:29pm "You might wanna tell Devlin he should turn on CNN, there's news on."

♦Page: 5:30pm "He knows. He just got handed a note."

♥Strzok: 5:33pm "Ha. He asking about it now?"

♦Page: 5:34pm "Yeah. It was pretty funny. Coming now."

At 5:36pm Devlin Barrett tweets:
This is a possibility, per sources https://t.co/cxzWsWD8P1

— Devlin Barrett (@DevlinBarrett) October 29, 2016
The newly released Strzok-Page texts reveal more of the same:
Timeline is crucial here:
April 10, 2017: Strzok sends text to Lisa Page regarding "media leak strategy."
April 11, 2017: WaPo publishes the bombshell Carter Page FISA story.
April 12, 2017: Strzok texts Lisa Page about Carter Page stories. https://t.co/xkRSGdmdgK @dailycaller

— Chuck Ross (@ChuckRossDC) September 10, 2018
The review of the documents suggests that the FBI and DOJ coordinated efforts to get information to the press that would potentially be "harmful to President Trump's administration." Those leaks pertained to information regarding the Foreign Intelligence Surveillance Court warrant used to spy on short-term campaign volunteer Carter Page.

The letter lists several examples:

April 10, 2017: (former FBI Special Agent) Peter Strzok contacts (former FBI Attorney) Lisa Page to discuss a "media leak strategy." Specifically, the text says: "I had literally just gone to find this phone to tell you I want to talk to you about media leak strategy with DOJ before you go."
April 12, 2017: Peter Strzok congratulates Lisa Page on a job well done while referring to two derogatory articles about Carter Page. In the text, Strzok warns Page two articles are coming out, one which is "worse" than the other about Lisa's "namesake"." Strzok added: "Well done, Page." –Sara Carter
Meadows says that the texts show "a coordinated effort on the part of the FBI and DOJ to release information in the public domain potentially harmful to President Donald Trump's administration." 
We're sure Rosenstein will get right on it…
___
http://www.zerohedge.com/news/2018-09-10/new-strzok-page-texts-discuss-fbi-media-leak-strategy-within-hours-washington-post