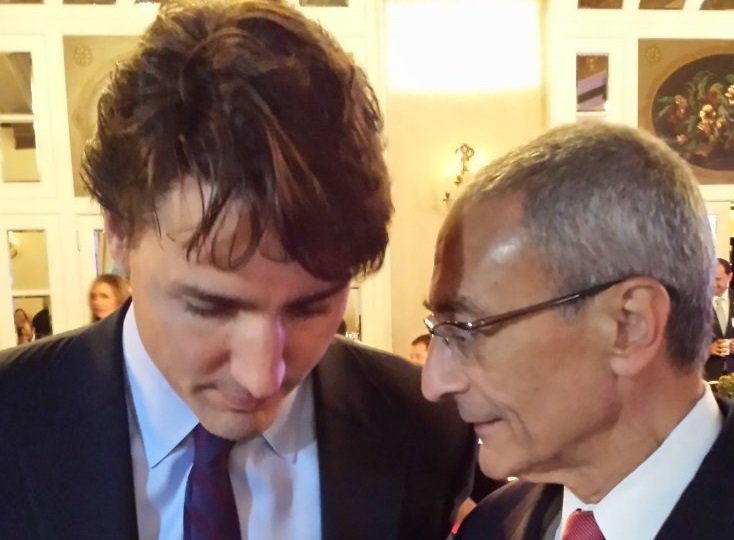 Justin Trudeau's Good Friend Jailed for Child-Porn Charges (And There's More—Much More) [videos]
starshipearththebigpicture.com

Sigh. Dare we feign surprise? I mean… is there any point? Is this 'soft disclosure' of the worst case scenario north of the 49th?
You know, it was only a few years ago that I actually believed Canada was far behind her cousin, the "American Woman" to the south, in corruption, false flag terrorism and infiltration by the cabal and the central banksters.
Sure the military covered up crashing space craft but I thought pedophilia was our worst problem only in isolated pockets—like Vancouver, the "coven capital". I hadn't heard much about it within parliament.
Toronto Mayor Rob Ford was the most embarrassing topic consistently in the news, and his brother Doug currently walking in his shoes seems to be setting a better example.
Yes, PM Stephen Harper was a flagrant cabalist, but I had hope for young Justin as we'd heard the new generation of the elite circles were sometimes rebelling and breaking free of the mind control shackles, working with us to dissolve the evil regime.
Since his installment, however, Trudeau has left no doubt he is either deeply in the pockets of the cabal, or a much better actor than we imagined, but the worst thing we knew of was his losing an eyebrow.
It seems, however, that in the not too distant past there may have been some parents demanding, "Hey, teacher! Leave our kids alone."  This could very well turn out to be Canada's jarring wake-up call. 
Even if Justin were to be put under house arrest or given a GPS ankle bracelet like John McCain and Hillary Clinton, would it make the front page of the Globe and Mail or qualify as breaking news on the CBC this week? Come on.
Regardless, though, Canada has a great deal of blood on its flag that most residents don't see—and won't until they're forced to accept it.
Thanks for the heads up, E.  ~ BP
---

Justin Trudeau's Good Friend Jailed for Child-Porn Charges (And There's More—Much More)
Christopher Charles Ingvaldson, 42, a long-term close friend of Canadian prime minister Justin Trudeau, has been found guilty of child pornography charges after being caught directing an international pedophile ring.
Ingvaldson entered guilty pleas in B.C. Provincial Court in Vancouver to accessing child pornography and possession of child porn. He was also initially charged with two counts of importing or distributing child pornography.
At the time he was charged, Royal Canadian Mounted Police said that 11 members of the pedophile ring in three countries – Canada, Australia and the U.K. – had also been arrested in their respective countries.
Justin Trudeau and Ingvaldson have been closely linked since their days as room-mates at college, and after completing their teaching degrees they were both accepted to teach at West Point Grey Academy, an elite Vancouver private boarding school.
After becoming Prime Minister, Justin Trudeau encouraged Ingvaldson to run for political office as a member of the Liberal Party. Ingvaldson announced his desire to be the Liberal MP candidate in the district of Vancouver-Kingsway, and developed a social media pages announcing his plans to run.
However his arrest and subsequent imprisonment on child porn and pedophilia charges have ended any chance Ingvaldson had of entering politics, even in Trudeau's liberal Canada.
The revelation that Justin Trudeau's close friend is a pedophile has come as no surprise to Canadians who have been watching the liberal Prime Minister closely. They point out that Trudeau has many uncomfortable ties to pedophilia.
Let's take a look at the Pierre Elliott Trudeau Foundation. The foundation is named after Justin Trudeau's father, the former prime minister Pierre Trudeau. It claims to "support creative and critical thinkers who make meaningful contributions to critical social issue."
However, the Pierre Elliott Trudeau Foundation has a history of using pedophile symbols.
Pierre Eliott Trudeau Foundation has a history of using known pedophile code words and symbols, such as the above example from 2015-16.
Case in point the above image taken from the 2015-16 annual report of the Pierre Elliott Trudeau Foundation. The use of this symbol though seems an odd choice for the foundation given what WikiLeaks emails reveal the FBI has to say regarding its true meaning.
You can see the symbol in question displayed prominently front and center on page three of the report linked here on the foundation's own website.
It's worth noting that while officially at least Justin currently has nothing to do with the foundation that bears his father's name — as he is unable to be publicly associated it while actively serving in Government — he was directly involved in overseeing the operationfrom its creation in 2002 until 2014, and is expected to return to it upon his retirement from politics.
Given those facts it is highly unlikely he is still not heavily in contact with those running the foundation in the meantime.
Also very important to note: In her autobiography "Trance-Formation of America" author Cathy O'Brien exposed her life as an MK Ultra, "Presidential Model" government sex slave. As a young girl, she spent a lot of time with former Canadian PM (and alleged pedophile and rapist) Pierre Trudeau, according to her account. Pierre is the father to Justin.
Over on 8chan some users have pointed out that this possible link to pedophilia, does in fact possibly offer an alternative explanation for some mysterious occurrences that occurred around Trudeau earlier in his life.
As mentioned earlier, before Justin followed his father's footsteps into politics, he was a teacher at West Point Grey Academy, an elite K-12 school — a school that shockingly had two separate sets of parents shot dead during the time he was teaching. Officials called the killings "gangland murders" at the time.
Keep in mind this "gangland violence" was apparently occurring to parents sending their children to an incredibly expensive private sleep-away Canadian prep school. The murders also happened to parents with no previous criminal records, but who were suddenly labeled mafia loan sharks after their violent and unexpected deaths.
Nobody associated with the school believed the "gangland" excuse at the time, and they still don't.
While one is free to come to their own conclusions based on these facts, there is at least one thing we know for sure. That there have been no violent deaths among the students or their families since Ingvaldson and the now Prime Minister left the school.
Is there a pedophile ring operating at the highest levels in Canadian politics, and is the current prime minister, a multi-generational elite leader, involved?
___
http://www.starshipearththebigpicture.com/2018/08/10/justin-trudeaus-good-friend-jailed-for-child-porn-charges-and-theres-more-much-more-videos/