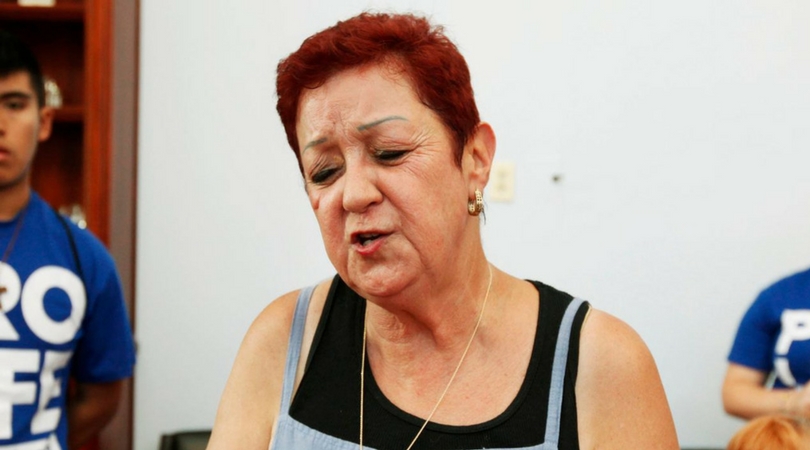 by David Nussman • ChurchMilitant.com
New film pays tribute to Norma McCorvey
DETROIT (ChurchMilitant.com) – A film honoring a late pro-life icon is now available for online viewing. A Cold Day In Hell tells the life of Norma McCorvey, the plaintiff in Roe v. Wade, the 1973 U.S. Supreme Court decision that legalized abortion and has led to the deaths of 60 million unborn children and counting.
After a dramatic conversion, she became a highly outspoken member of the pro-life movement. McCorvey passed away in February 2017. A Cold Day In Hell celebrates her life and her conversion.
Church Militant spoke with Randall Terry, the documentary's narrator and founder of Operation Rescue. He wrote the song that plays during the closing credits, which says it was "a cold day in Hell" for Satan on the day McCorvey passed away.
Terry said he was inspired to make the film when he realized how few people knew about McCorvey's life. "When I went to her funeral," he said, "I had a cameraman with me, and I was shocked at how few people were there."
He was also bothered by false narratives of McCorvey's life found in the secular media.
"I knew there were going to be people trying to besmirch her memory," Terry told Church Militant. "I realized I should just do a documentary because no one else would."
I realized I should just do a documentary because no one else would.
Tweet
McCorvey had a troubled childhood, marred by physical, sexual and emotional abuse. She spent some years in a reform school.
She married at a very young age. When her husband found out she was pregnant, he beat her and accused her of infidelity. A divorce soon followed. She carried that child to term and had several pregnancies with various men. Her life was tumultuous, rocked by habits of lesbianism and alcohol abuse.
Even though McCorvey was the plaintiff in Roe v. Wade, she never actually went through with having an abortion. She says the feminist attorneys were just using her to get abortion enshrined into federal law as a "human right," lying to the public that McCorvey had been gang raped by a group of black men, when in truth she had simply slept with someone and winded up getting pregnant.
Terry and McCorvey first met when she was still an abortion supporter. He told us McCorvey was on the other side of a protest "three feet away blowing a whistle in my ear."
Her initial conversion to Christianity was brought about by a Protestant pastor. She was baptized in August 1995.
In 1998, Fr. Frank Pavone of Priests for Life helped McCorvey enter fully into the Catholic Church, giving her confirmation and First Holy Communion.
When pro-abortion President Barack Obama was the commencement speaker at Notre Dame University in 2009, McCorvey was arrested for prayerfully protesting Obama's honorary degree and speech. She wore a Notre Dame spirit-wear t-shirt with the warning "shame shame shame" scribbled underneath the school's logo.
In the documentary, many of McCorvey's coworkers and loved ones recall her feisty personality and her affectionate sense of humor. More than one person interviewed in A Cold Day in Hell deems her a "true Texas woman."
The documentary tells McCorvey's life from the perspective of those who knew and loved her.
Watch A Cold Day in Hell here.
___
http://www.churchmilitant.com/news/article/real-story-late-norma-mccorvey