GROSS MISCARRIAGE OF JUSTICE:
DOJ cuts a deal with Imran Awan that constitutes misprision of felony
SOTN Editor's Note: The ZeroHedge.com article posted below in its entirety lays bare the facts that indicate conclusively that the highest officials within the DOJ are now guilty of misprision of felony.  The DOJ has consistently handled the Imran Awan scandal with an extraordinary degree of prosecutorial misconduct as well as official misconduct where it concerns the final disposition of this web criminal cases.
---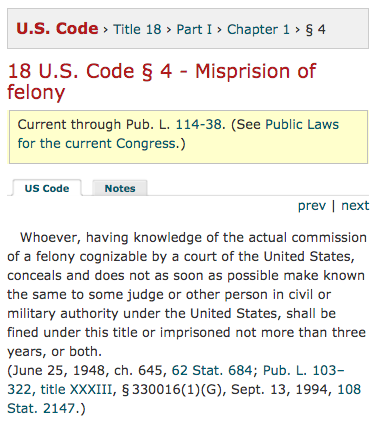 ---
To call the outcome of the Awan investigation, which was essentially a massive and unparalleled breach of Congressional security, a farce would be a gross understatement.  In point of fact, the DOJ is clearly now a self-incriminated co-conspirator in the original series of cyber-crimes, as they are in the continuing and naked cover-up.  A cover-up of exactly what crime spree?  As follows:
---
---
If there is a silver lining in this dark DOJ cloud, it's that the whole bunch of corrupt officials and criminal agents — from AG Jeff Sessions on down — are now closer to their collective downfall. The highly self-destructive combination of arrogance and ignorance within institutional leadership always leads to a free-fall collapse.  In the face of this ongoing travesty of justice at the Department of Justice, the American people must begin to clean house … before the house falls down.
State of the Nation
July 3, 2018
---
Imran Awan Gets Sweetheart Plea Deal; DOJ Won't Prosecute Alleged Spy Ring, Cybercrimes
ZeroHedge.com
The Department of Justice won't prosecute Imran Awan, a former IT administrator for Rep. Debbie Wasserman Schultz and dozens of other Democrats, for allegations of cybersecurity breaches, theft and potential espionage, as part of a plea agreement one one count of unrelated bank fraud.
After the entry of your client's plea of guilty to the offense identified in paragraph 1 above, your client will not be charged with any non-violent criminal offense in violation of Federal or District of Columbia law which was committed within the District of Columbia by your client prior to the execution of this Agreement -Awan Plea Agreement
Awan withdrew hundreds of thousands of dollars after lying on a mortgage application and pretending to have a medical emergency that allowed him to drain his wife's retirement account. He then wired large sums of money to Pakistan in January, 2017.
Break: Ex-Dem IT aide Imran Awan pleads guilty to loan application fraud in federal court, as part of plea agreement. Prosecutors drop charges against his wife. Prosecutors say they investigated allegations of improper behavior in Awan's Congress role, but will bring no charges.

— Alex Pappas (@AlexPappas) July 3, 2018
BREAKING: I'm at the federal courthouse, and it seems that Imran Awan's Plea deal says that he cannot be charged with any previous non-violent crime.

— ??? ????????? ⏳ (@stranahan) July 3, 2018
When word of a plea agreement emerged last week, President Trump was none too pleased:
Our Justice Department must not let Awan & Debbie Wasserman Schultz off the hook. The Democrat I.T. scandal is a key to much of the corruption we see today. They want to make a "plea deal" to hide what is on their Server. Where is Server? Really bad!

— Donald J. Trump (@realDonaldTrump) June 7, 2018
#WitchHunt– @lukerosiak: What the Dems did here is treason. They allowed the U.S. to be continuously hacked by these bad guys so they could spin the phony @realDonaldTrump-Russia narrative. #MAGA #TrumpTrain #DTS #Dobbs pic.twitter.com/a9QiqoX77J

— Lou Dobbs (@LouDobbs) June 6, 2018
Despite IG's allegation that Awan made unauthorized access to House data, DWS protects him. After IG made his claims, server that contained evidence was physically stolen, yet DWS kept paying Awan as her IT aide even though he was banned from the network. https://t.co/bLd5qfSy5Q https://t.co/fTJdaPu4kZ

— Nick Short (@PoliticalShort) June 7, 2018
Awan and several family members worked for Rep. Debbie Wasserman Schultz along with 20% of House Democrats as IT staffers who held – as the House Inspector General called it – the "keys to the kingdom," when it came to accessing confidential information on Congressional computer systems.
And while ample evidence of potential crimes were found by the House Inspector General, the DOJ says they found no evidence of wrongdoing.
The Department of Justice said it "found no evidence that [Imran] illegally removed House data from the House network or from House Members' offices, stole the House Democratic Caucus Server, stole or destroyed House information technology equipment, or improperly accessed or transferred government information."

That statement appears to take issue — without explaining how — with the findings of the House's Nancy Pelosi-appointed inspector general, its top law enforcement official, the sergeant-at-arms, and the statements of multiple Democratic aides.

In September 2016, the House Office of Inspector General gave House leaders a presentation that alleged that Alvi, Imran, brothers Abid Awan and Jamal Awan, and a friend were logging into the servers of members who had previously fired him and funneling data off the network. It said evidence "suggests steps are being taken to conceal their activity" and that their behavior mirrored a "classic method for insiders to exfiltrate data from an organization."

Server logs show, it said, that Awan family members made "unauthorized access" to congressional servers in violation of House rules by logging into the servers of members who they didn't work for. –Daily Caller
---
We're supposed to believe that Awan wired hundreds of thousands of dollars to Pakistan, tried to flee the country, was kept on DWS's payroll…

All for the no-jail offense of lying on a home equity application? pic.twitter.com/Ta7boWELut

— Techno Fog (@Techno_Fog) July 3, 2018
Awan was arrested at Dulles airport while attempting to flee the country – one day after reports emerged that the FBI had seized a number of "smashed hard drives" and other computer equipment from his residence. While only charged with bank fraud, there is ample evidence that the Awans were spying on members of Congress through their access to highly-sensitive information on computers, servers and other electronic devices belonging to members of Congress.
Repeat – there has been NO investigation of the serious allegations about Imran Awan.

No proof at all AND we know a number of key people have never even been spoken to investigators.

Ask @lukerosiak

— ??? ????????? ⏳ (@stranahan) July 3, 2018
Luke Rosiak of the Daily Caller has compiled the most comprehensive coverage of the Awan situation from start to finish – and outlines exactly why the Awans' conduct warranted serious inquiry.
On Feb. 3, 2017, Paul Irving, the House's top law enforcement officer, wrote in a letter to the Committee on House Administration that soon after it became evidence, the server went "missing."

The letter continued: "Based upon the evidence gathered to this point, we have concluded the employees are an ongoing and serious risk to the House of Representatives, possibly threatening the integrity of our information systems."

Imran, Abid, Jamal, Alvi and a friend were banned from the House network the same day Kiko sent the letter.

The alleged wrongdoing consisted of two separate issues.

The first was the cybersecurity issues. In an April 2018 hearing spurred by the Awan case, Chief Administrative Officer Phil Kiko testified: "The bookend to the outside threat is the insider threat. Tremendous efforts are dedicated to protecting the House against these outside threats, however these efforts are undermined when these employees do not adhere to and thumb their nose at our information security policy, and that's a risk in my opinion we cannot afford."

The second was a suspected theft scheme. Wendy Anderson, a former chief of staff for Rep. Yvette Clarke, told House investigators she believed Abid was working with ex-Clarke aide Shelley Davis to steal equipment, and described coming in on a Saturday to find so many pieces of equipment, including iPods and Apple TVs, that it "looked like Christmas."
Meanwhile, as we noted in June, the judge in the Awan case, Tanya Chutkan, was appointed to the D.C. US District Court by President Obama on June 5, 2014, after Chutkan had contributed to him for years.
Prior to her appointment to the District Court, she was a partner at law firm Boies Schiller & Flexner (BSF) where she represented scandal-plagued biotechnology company Theranos – which hired Fusion GPS to threaten the news media. Because of this, Chutkan had to recuse herself from two cases involving Fusion GPS.
Meanwhile, BSF attorney and crisis management expert Karen Dunn – who prepped Hillary Clinton for debates and served as Associate White House Counsel to Obama – represents Hillary Clinton aide Huma Abedin. Another BSF attorney, Dawn Smalls, was John Podesta's assistant while he was Obama's Chief of Staff. And if you still had doubts over their politics, BSF also republished an article critical of Donald Trump in their "News & Events" section.
In short, the Judge in the Awan case – appointed by Obama after years of contributing to him, was a partner at a very Clinton-friendly law firm. It should also be noted that Obama appointed Chutkan's husband, Peter Krauthammer, to the D.C. Superior Court in 2011.
The left has, of course, seized upon the plea deal to suggest that there was no wrongdoing.
Imagine being so dumb that you think a plea deal implies the defendant wasn't really guilty of the other charges https://t.co/3IECc8zfRq

— William Craddick (@williamcraddick) July 3, 2018
___
http://www.zerohedge.com/news/2018-07-03/imran-awan-gets-sweetheart-plea-deal-doj-wont-prosecute-alleged-spy-ring