Dow dives more than 1,000 in heavy sell-off after stocks tumble worldwide
By JAMES F. PELTZ
LA Times
August 24, 2015 8:42 AM
The U.S. stock market plummeted in its opening with the Dow Jones industrial average losing more than 1,000 points, or 6%, in the opening moments. It soon pulled back a bit to a loss in the mid-500 range.
The markets had been bracing for a rough opening Monday morning after markets plunged again in China and elsewhere in Asia and Europe amid growing fears about China's slowing economy.
China's benchmark indicator, the Shanghai composite index, tumbled 8.5% on Monday and again triggered a global selloff, extending the rout that erupted Thursday and worsened Friday.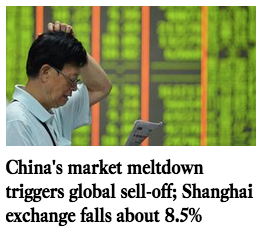 The Nikkei index in Japan skidded 4.6%, as did the Stoxx Europe 50 index in Europe. Major indices also fell in Germany and Taiwan.
In U.S. markets, the Dow Jones industrial average had lost nearly 900 points over Thursday and Friday.
The blue-chip average began Monday down 10.1% from the record high it reached in mid-May, reaching the 10% decline that generally defines a "correction" in the market.
The Standard & Poor's 500 was down 9.8% over the two days and the Nasdaq composite index dropped 7.5%.
China's stock market has plunged nearly 40% since it reached a record high in mid-June amid traders' growing fears that the slowdown in China's economy could affect corporations worldwide that do business with China.