No Deal: Schumer Filibusters Meeting to End Shutdown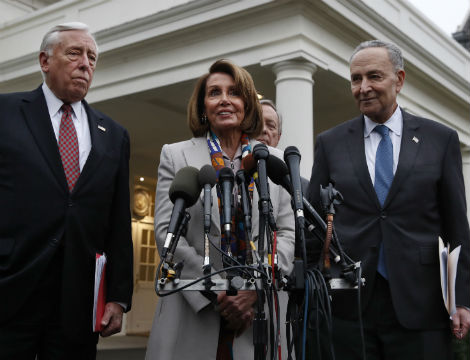 Schumer Filibusters Meeting to End Govt Shutdown
By Eric Mack
NEWSMAX
Failing to get through Homeland Security Secretary Kirstjen Nielsen's briefing on border security, interrupted by Senate Democratic leader Chuck Schumer, D-N.Y., President Donald Trump has asked bipartisan leaders to resume their meeting Friday after congressional leadership races.
"I was a little disappointed with, I would say, some on the other side," incoming House Minority Leader Kevin McCarthy told reporters outside the Oval Office. "Once the secretary started, Sen. Schumer interrupted her. They really didn't want to hear it. And they challenged some of the points the secretary made.
"We were hopeful we could get more of the negotiation . . . I hoped we'd get a little more of that today. Hopefully by Friday we will be able to get there."
President Trump had invited leadership to the White House to present a border security deal that could end a government shutdown that will be approaching two weeks this Friday night.
"The bottom line is very simple," Schumer said. "We asked the president to support the bills we support that will open up government. We asked him to give one good reason – I asked him directly – I said, 'Mr. President, give me one good reason why you should continue your shutdown of the eight Cabinet departments while we are debating our differences on Homeland Security.'
"He could not give a good answer."
Potential House Majority Leader Nancy Pelosi, D-Calif., has proposed a continuing resolution passed by the Senate to allow a border security debate until Feb. 8 with the remaining portions of the government reopened from the shutdown.
"The only reason they are shutting down the government is very simple: They want to leverage that shutdown into their proposals on border security," Schumer said. "We want strong border security, we believe ours are better. But to use the shutdown as hostage, which they had no argument against, is wrong."
McCarthy did express optimism a deal for border security and ending the shutdown could come together "rather quickly."
"I know that's why, maybe after the leadership races, people might be more willing to come to agreement," McCarthy told reporters.
Schumer's interruptions were to present their deal they were going to bring up Thursday, but McCarthy said the president has been clear "it's not the bill he would support, and leader [Mitch] McConnell [R-Ky.] is not bringing anything up that is not going to become law."
Rep. Steve Scalise, R-La., rebuked Democratic leadership for their failure to negotiate with the White House over the course of the shutdown, having left Washington during the Christmas and New Year's break.
"No counter offer came back," McCarthy concluded. "There was not a counteroffer today, and hopefully Friday there will be."
___
https://www.newsmax.com/politics/chuckschumer-whitehouse-borderwall-shutdown/2019/01/02/id/896629/