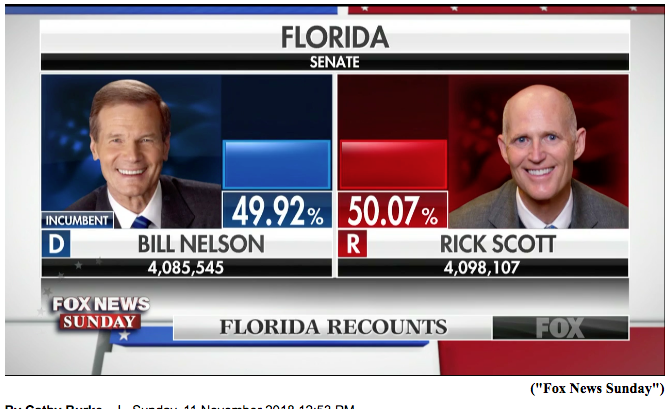 By Cathy Burke
NEWMAX
Florida GOP Gov. Rick Scott on Sunday accused his Democratic opponent in the U.S. Senate race, incumbent Sen. Bill Nelson, D-Fla. for "clearly trying to commit fraud to win this election."
In an interview on "Fox News Sunday" — as a state-mandated recount is underway — Scott said "Bill Nelson is a sore loser. We won, I've had to win this election twice now."
"His lawyer said that a noncitizen should votem – that's one," Scott said, explaining his accusations against Nelson. "Number two, he's gone to trial and said that fraudulent ballots should be counted. Ballots have already been thrown out because they were not done properly. He said those should be counted."
Pressed on whether Scott believed Nelson committed fraud, Scott replied: "It's his team."
Scott appeared to have won the election Tuesday, but his lead has been narrowed in recent days.
The governor and the National Republican Senatorial Committee have both field lawsuits against election officials in the state's Broward and Palm Beach counties, The Hill reported.
"Chris, 93,000 ballots were found after election night," Scott said. "It's the law — you have to say how many votes have been cast that night. Thirty minutes after election, somehow they came up with 93,000 votes afterwards. How did they do it? We don't know."
"Bill Nelson is a sore loser," he repeated. "He's been in politics for way too long, 42 years. He just won't give up and he saying if you're not a citizen your vote ought to count. He saying that fraudulent balance ought to count. That's wrong."
The Hill reported Nelson's team responded to the accusations with a video that he released Friday accusing Scott of trying to stop all of the votes in Florida from being counted.
© 2018 Newsmax. All rights reserved.
___
http://www.newsmax.com/newsfront/florida-governor-rick-scott-bill-nelson/2018/11/11/id/890241/