White House Aides Hoped Rosenstein Meeting Would Calm Trump's Anger Over Cohen Raid
ZeroHedge.com
A day after he reportedly discussed the prospect of firing Deputy Attorney General Rod Rosenstein (and after reports surfaced that Trump came close to firing Special Counsel Robert Mueller in December) Bloomberg reports that the DOJ's No. 2 official assured Trump during a tense White House meeting that he was cooperating fully with Congressional Republicans and their investigation into suspected malfeasance at the FBI.
White House aides had organized the meeting hoping that it would cool Trump's anger over the raid of the house, hotel and office of his personal attorney Michael Cohen (whose legal practice only has one client: Trump). However, it appears to have had the opposite effect. One person who attended the meeting said Trump seemed distracted.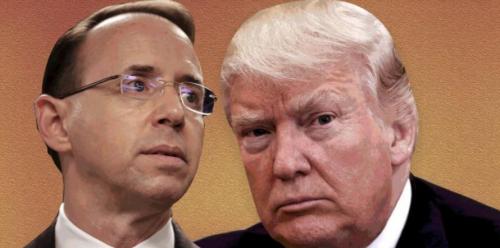 Trump recently slammed reports that he intended to fire Mueller, claiming that if he really wanted the special counsel gone, he would've already told him to pack up his things.
If I wanted to fire Robert Mueller in December, as reported by the Failing New York Times, I would have fired him. Just more Fake News from a biased newspaper!

— Donald J. Trump (@realDonaldTrump) April 12, 2018
The meeting between Trump and Rosenstein followed the release (after months and months of waiting) of a (mostly) unredacted version of a memo that the FBI used as evidence to help justify the launch of the Russia probe during the summer of 2016. The disclosure comes after House Intel Committee Chairman Devin Nunes threatened to hold Rosenstein and FBI Director Chris Wray in contempt.
Unfortunately, Republican leaders in Congress say the release of the document and Trump's face-time with the DOJ's No. 2 official have done little to defuse tensions between the DOJ and Trump's allies (as well as the president himself). Mark Meadows, the leader of the House Freedom Caucus, still believes Rosenstein and Wray should be held in contempt.
Representative Mark Meadows, chairman of the House subcommittee on government operations, said Thursday evening that he was unaware of the White House meeting, or of any resolution to the standoff over documents.

Meadows said he and other members of the Oversight and Judiciary committees were continuing to urge Judiciary Chairman Bob Goodlatte of Virginia to pursue contempt charges against Rosenstein and Wray.

"I remain unsatisfied. Nothing has satisfied me yet. Because nothing has changed from yesterday, or the day before, or the day before that," said Meadows.

Goodlatte, in a separate interview, said he wasn't aware of any breakthrough on the document dispute.
Meanwhile, as BBG points out, several Trump allies have taken to cable news this week to encourage the president to fire Rosenstein.
Bannon added that Trump should stop cooperating with Mueller and assert executive privilege to silence aides who might speak with the special counsel – even retroactively, for those who've already been interviewed.

Other supporters of the president made their arguments on television. Roger Stone, a sometime Trump confidant, told ABC News on Wednesday that Trump should fire Sessions and Rosenstein. Joe diGenova, an attorney who was nearly added to Trump's legal team last month, said on Fox News that Sessions should fire Rosenstein.

"The fact is Rod Rosenstein has not done his job. He has not supervised Mueller. This whole thing is an absurdity," former House Speaker Newt Gingrich, another Trump ally, said on Fox News on Wednesday.
If Trump truly intended to fire Rosenstein and Mueller, he may have missed his chance: The one-two punch of the Cohen raid coupled with the release of excerpts from James Comey's memoir has created a cloud of intense scrutiny over the president's decision-making.
Also, now that Mueller has sloughed off at least some of the responsibility for the wide-ranging probe to the US attorney for the Southern District of New York, sacking both DOJ officials wouldn't necessarily guarantee the end of the investigation.
___
http://www.zerohedge.com/news/2018-04-13/white-house-aides-hoped-rosenstein-meeting-would-calm-trumps-anger-over-cohen-raid