Jim Stone, Freelance Journalist
http://82.221.129.208/.zp0.html
VERY IMPORTANT AND NOW UNDENIABLE: MUELLER IS A DEEP STATE STOOGE
This is not a joke. Today we got solid confirmation he is in place to destroy Trump and cannot be removed.
Former Obama AG Eric Holder to Congress: Any attempt to remove Mueller will not be tolerated.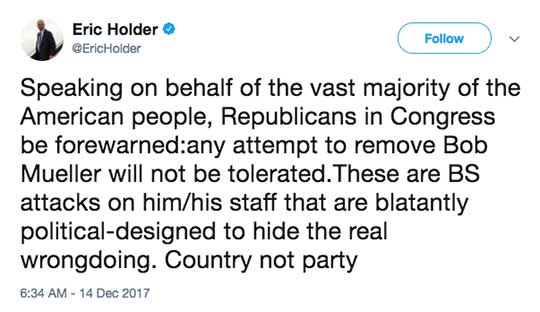 @EricHolder
http://twitter.com/EricHolder/status/941315510179893249
His following tweets make it clear that Mueller is on a mission to do one thing: Destroy Trump. How do you define "will not be tolerated"? Arkancide? Was that a death threat? I would not doubt it.
___
http://www.rumormillnews.com/cgi-bin/forum.cgi?read=89676