BREAKING: America's Worst Nightmare About Texas Church Shooter Just Confirmed – Here's Who He Is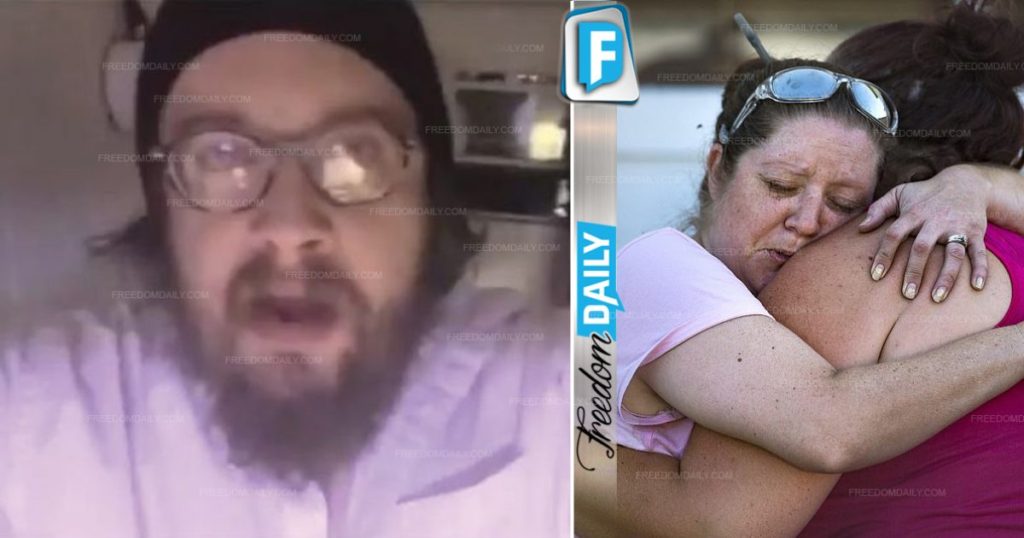 By Amanda Shea
Freedom Daily
The second attack this week to take the lives of innocent Americans just struck again during the most innocent of activities, just five days after the first. On Tuesday, eight were ruthlessly killed in New York and now 27 more have lost their lives this week in a senseless attack on churchgoers in Texas. As the media scrambles to blame this on the gun in a push for more control, the country's worst nightmare was just confirmed about who the shooter is and what he set out to accomplish.
Americans, specifically Christians are under attack in these trying days prophesized about in the Bible that we are seeing come to fruition under the most terrifying terms. In September, white Tennessee churchgoers were ambushed and killed by a gunman in an unprovoked attack that was swiftly swept under the rug by the mainstream media desperate to hide the important details and keep the attention on irrelevant issues like Russian collusion. Now, the blood of 27 faithful believers is now on their hands after disregarding the clear and present threat in this country to keep the focus on their rhetoric. There's no hiding what's happening now and every American needs to be on high alert for what's coming.
Just a few short hours after a gunman stormed the small Sutherland Springs, TX church, we're seeing that the dead suspect is white, but his race had nothing to do with what he did. While his race and other irrelevant factors is what we'll hear most about from the mainstream media, there a much larger fact about this suspect that is absolutely everything that Americans must know right now.
The Daily Mail reports:
The mass shooter who opened fire inside a Texas church killing at least 27 – including a two-year-old child – has been identified as a 26-year-old former Bible study teacher who was dishonorably discharged from the US Air Force.
Devin Patrick Kelley walked into the First Baptist Church of Sutherland Springs, dressed in full combat gear, and began shooting, according to local law enforcement sources.
Kelley, 26, of New Braunfels, a suburb of San Antonio, was killed after a brief foot chase into Guadalupe County, according to Guadalupe County Sheriff's Office spokesman Robert Murphy. But it's still unclear if the gunman shot himself or was taken down by authorities. San Antonio police raided Kelley's home on Sunday evening, with K9 and bomb squad units.
While this seems like a random attack from a psychotic white guy who the left will use as a poster child for more gun control, his reasoning for arming up and taking over a building full of Christians was because of is religion. "The shooter is dead. He has not been officially identified, but Mustachio Tweeted: '#texaschurchshooting shooter is 29-year-old US marine turned Muslim convert, Samir Al-Hajeed. His manifesto is making its rounds on the web,'" the Santa Monica Observer reported.
"Pres. Trump is in Japan. He tweeted 'May God be with the people of Sutherland Springs. The FBI is on scene, and I am monitoring the situation,'" the Observer added. "At least 27 people were killed and around 27 injured in a Texas church shooting Sunday morning, law enforcement sources told ABC News."
"The alleged shooter is dead, and it appears there is no longer an active threat at the First Baptist Church in Sutherland Springs, about 40 miles southeast of San Antonio, police told ABC News."
 "A person who said she works at a gas station across the street from the church told ABC News she heard rapid gunfire at around 11:15 a.m., leading congregants from the church as well as customers at the station to run inside for cover. 'We heard several shots and we all started running inside the store,'; she said." 'It lasted about 15 seconds. I yelled, 'Get down! Get inside!' and we all went into hiding," said the woman, who said she is 49 but declined to give her name. She said the gas station locked its doors. 'We have not reopened,' she said."
"She then that within minutes of the gunfire, emergency personnel had arrived at the scene. 'There were officers that were checking the wounded in here were asking them questions,' she said."
The Daily Mail has more on this white man-turned-terrorist and the horrific crime he perpetrated on the faithful:
Kelley, who was reportedly married, had recently posted a photo of an AR-15 style gun on his Facebook page with the caption: 'She's a bad b***h.'
A LinkedIn account which appears to be Kelley's states that he joined the US Air Force after graduating New Braunfels High School in 2009. He worked in logistics and supply in the Air Force until he was dishonorably discharged in 2014 and was even court-martialed in May 2014, CBS News reported.
He then volunteered as a teacher for Bible studies at Kingsville First Baptist Church, according to his LinkedIn which shows him posing which a young child.
Wilson County Commissioner Albert Gamez Jr told CNN that at least 27 people have been killed in the shooting, but the death toll is expected to climb. The first responders on the scene were from local churches who began receiving texts from family and friends about the shooting.
The Connally Memorial Medical Center said 'multiple' victims are being treated.
"My heart is broken," Gamez said. "We never think where it can happen, and it does happen. It doesn't matter where you're at. In a small community, real quiet and everything, and look at this, what can happen."
At least 24 others were injured in the horrific shooting, including four kids from the same family. They include a five-year-old boy – named only as Rylan – who was shot four times and is currently undergoing emergency surgery in hospital, two girls, aged 5 and 7, who are also in surgery, and an 8-year-old who hid under a pew during the shooting. It is believed to have been the worst shooting at a place of worship in American history.
With0ut a doubt, the mainstream media and every anti-Trump liberal will focus on this killer's identity as a white male, rather than a Muslim convert. The latter factor was the driving force behind his crime and not the physical description of him. 
___
https://freedomdaily.com/breaking-the-texas-church-shooter-is-a-muslim-this-is-terrorism/