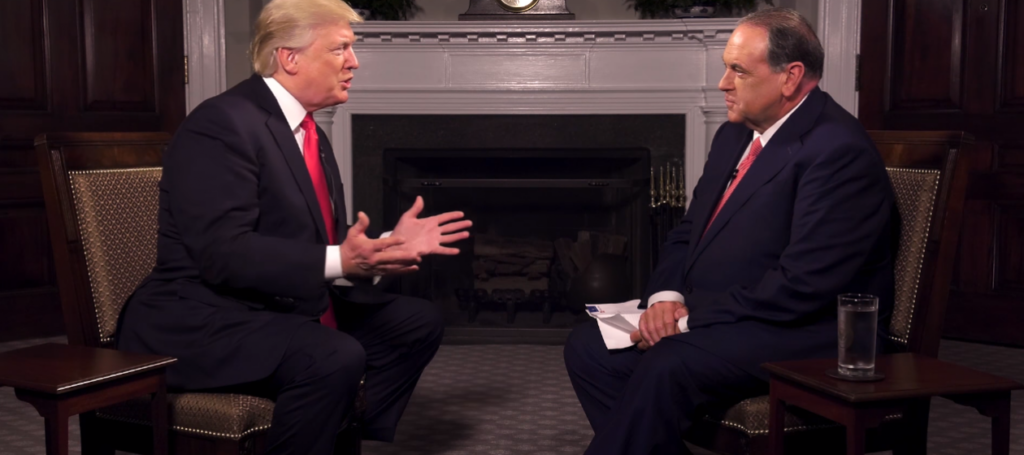 By Sandy Fitzgerald | NEWSMAX
President Donald Trump Saturday praised his own use of the word "fake," telling former Gov. Mike Huckabee in an interview that he thinks it's "one of the greatest of all terms I've come up with."
"I guess other people have used it, perhaps over the years, but I've never noticed it," he told Huckabee, the father of Press Secretary Sarah Huckabee Sanders, in an interview recorded for the former governor's television program on the Christian-based Trinity Broadcasting Network.
Trump has often used the term "fake news" in reference to unflattering media coverage of his campaign and presidency, and his remarks to Huckabee come as he defends his administration and himself concerning criticism after his trip to Puerto Rico last week.
The president has called the media coverage, and criticism coming from people like San Juan Mayor Carmen Yulín Cruz unfair.
For example, Trump defended one action that's come under fire — his decision to throw rolls of paper towels into a crowd of people who came to a church in San Juan, where they were seeking relief supplies.
"They had these beautiful, soft towels, very good towels," Trump told Huckabee. "I came in and there was a crowd of a lot of people, and they were screaming and they were loving everything. I was having fun, they were having fun."
"They said, 'throw 'em to me! Throw 'em to me Mr. President!'" Trump added, while using his hands to mimic how he'd thrown the paper towels.
The media, though, complained the next day that it was "'so disrespectful to the people,'" said Trump. "It was just a made-up thing. And also when I walked in, the cheering was incredible."
Trump also complained to Huckabee that the media is "taking away the spirit of the country" during his interview.
Meanwhile, Huckabee opened the interview by asking Trump how his daughter is doing as press secretary, saying it was the "most important" question he'd be asking.
Trump told Huckabee that he "did a good job" raising his daughter, adding that his wife "did a better job."
He also called Sanders a "great person" and one of the "most talented" press secretaries he's ever known. Further, he said that Sanders, who replaced Sean Spicer earlier this year, has handled the White House press corps' "haters" with "brilliance."
___
http://www.newsmax.com/Politics/trump-fake-greatest-term-good-towels/2017/10/08/id/818385/