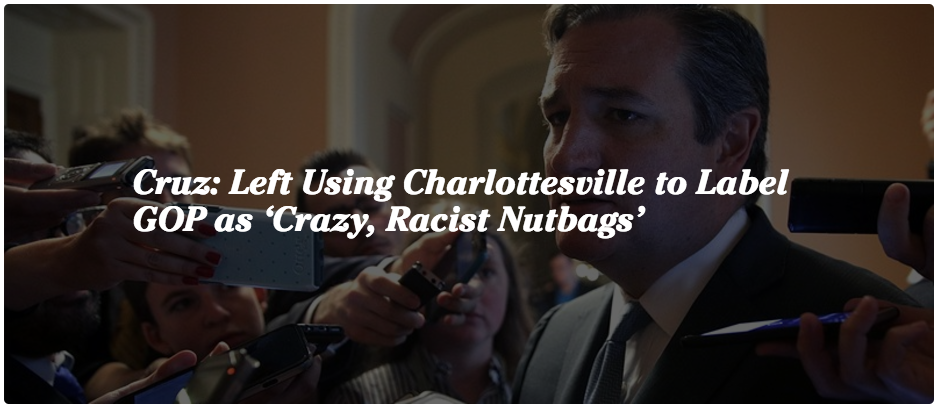 CRUZ: LEFT USING CHARLOTTESVILLE TO LABEL GOP AS 'CRAZY, RACIST NUTBAGS'
Rally exploited to push racial divide
Jamie White | Infowars.com
The Democrats and the mainstream media are seizing the issues surrounding the violence in Charlottesville to depict Republicans and conservatives as "crazy, racist nutbags," says Sen. Ted Cruz (R-Texas).
"The media and the Democrats, to the surprise of no one, [are] demagoguing this issue and using it for political advantage," Cruz said in a radio interview Tuesday on the Mark Davis Show.
"In the media's telling, they want to tar and feather any Republican, any conservative, and paint us as these crazy, racist nutbags."
Violence erupted Saturday between white nationalists and Antifa in Charlottesville, Virginia, where the former group was protesting the removal of a statue of Civil War general Robert E. Lee.
One woman died and 19 others were injured after 20-year old James Alex Fields plowed a car into a group of Antifa counter-protesters amid the chaos.
A number of Republican leaders decried the violence and issued strong statements against the "Unite the Right" rally, including Cruz, who called the "white supremacists…repulsive and evil."
"It's tragic and heartbreaking to see hatred and racism once again mar our great Nation with bloodshed," Cruz tweeted on Saturday, adding that the car attack should be investigated by the Justice Department as "domestic terrorism."
Unconvinced by these sensible remarks, the corporate media continued to demonize Republicans as racists over the weekend.
"Sorry to be cynical, but most of Rubio and Ted Cruz to me seem mostly to be doing a tremendous job of posturing for 2020," tweeted New York Times reporter Eric Lipton on Sunday.
Cruz fired back at Lipton in kind.
"Gosh, you're right. Because Nazis & the Klan have such love for Cuban-Americans. If only we worked for a paper that shilled for Stalin…" he tweeted.
___
https://newswars.com/cruz-left-using-charlottesville-to-label-gop-as-crazy-racist-nutbags