Senate Dems warn they will block recess appointments
BY JORDAIN CARNEY
The Hill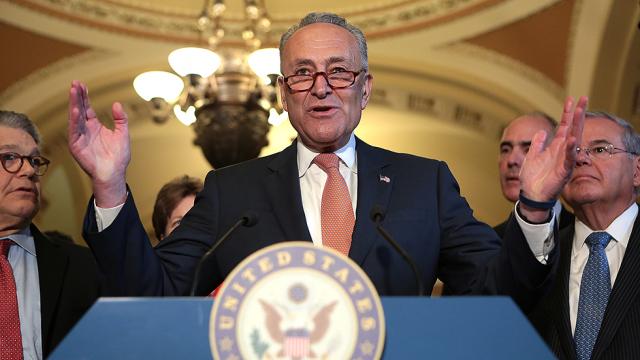 Senate Democrats are warning they will block President Trump from trying to bypass the confirmation process by firing Attorney General Jeff Sessions and appointing a successor during the August recess.
"Let me state for the record now, before this scheme gains wings, Democrats will never go along with the recess appointment if that situation arises," Senate Minority Leader Chuck Schumer (D-N.Y.) said Tuesday, amid speculation about Sessions's future in the administration.
He added that Democrats "have some tools in our toolbox" to block Trump from a recess appointment, which would allow the president to bypass what would likely be a contentious confirmation fight.
"We're ready to use every single one of them, any time, day or night. It's so vital to the future of the republic," Schumer said.
Democrats could prevent the Senate from adjourning in mid-August, which could force Republicans to set up "pro-forma" sessions that would effectively block Trump from being able to name a successor without Senate confirmation.
A spokesman for Senate Majority Leader Mitch McConnell (R-Ky.) said he didn't have any announcements on pro-forma sessions, which usually last only a few minutes, but noted that "if the Senate doesn't adjourn, typically pro forma sessions happen every three days."
The Senate held pro forma sessions over the weeklong July Fourth recess.
Schumer said Tuesday that Trump is trying to "bully" Sessions out of office.
"I cannot imagine my friends on the Republican side, and particularly in the Republican leadership … would be complicit in creating a constitutional crisis," Schumer said.
Schumer's warning comes as Trump appears increasingly frustrated with Sessions for his decision to recuse himself from the Justice Department's investigation into Russia's election meddling and potential contacts between the Trump campaign and Moscow.
Trump tweeted on Tuesday morning that Sessions, who as a senator from Alabama was one of Trump's earliest allies in the 2016 campaign, "has taken a VERY weak position" on former Democratic presidential nominee Hillary Clinton's past.
"Attorney General Jeff Sessions has taken a VERY weak position on Hillary Clinton crimes (where are E-mails & DNC server) & Intel leakers!" he tweeted.
Republicans have largely defended their former colleague, though Speaker Paul Ryan (R-Wis.) told reporters on Tuesday that "it's up to the president to decide what his personnel decisions is and any possible fallout that comes with that."
___
http://thehill.com/homenews/senate/343643-senate-dems-warn-they-will-block-recess-appointments