Federal judge in Seattle blocks Trump's travel order nationwide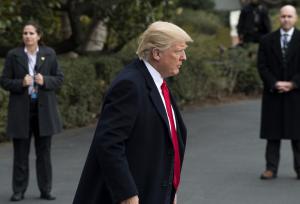 by UPI
Feb. 3 (UPI) — Two federal judges across the country from each other issued two separate and equally different decisions late Friday — one refusing to extend an injunction against President Donald Trump's U.S. travel suspension and one blocking its effect nationwide.
First, U.S. District Judge Nathaniel M. Gorton, in Boston, said in a preliminary 21-page ruling that he would not extend a seven-day restraining order that has prevented the travel restrictions from being implemented this week.
Opponents claimed the so-called "travel ban" would cause irreparable harm for immigrants.
"In order to obtain a preliminary injunction or temporary restraining order, the moving party must establish 1) a reasonable likelihood of success on the merits, 2) the potential for irreparable harm if the injunction is withheld, 3) a favorable balance of hardships and 4) the effect on the public interest," Gorton wrote in his decision. "Because plaintiffs have not demonstrated that they are likely to succeed on the merits of any of their claims, an extension of the restraining order at the present time is not warranted."
Trump's order, signed last week, suspends the U.S. government's refugee program for 120 days, bars Syrian refugees indefinitely and prohibits U.S. entry for immigrants of seven predominantly Muslim countries — Iran, Iraq, Syria, Libya, Sudan, Somalia and Yemen.
A short time later on Friday, though, U.S. District Court Judge James Robart, in Seattle, upheld a challenge to Trump's order from the attorneys general of Washington state and Minnesota and issued another temporary national restraining order.
"The state has met its burden in demonstrating immediate and irreparable injury," Robart said
The Boston ruling was thought to be a key victory for the Trump administration on the matter, but the subsequent Seattle decision represented the biggest legal setback yet in the battle over the president's directive — as it effectively blocks it across the United States.
"[The] decision, effective immediately, effective now, puts a halt to President Trump's unconstitutional and unlawful executive order," Washington State Attorney General Bob Ferguson said. "It puts a stop to it immediately, nationwide.
"What the judge announced today was nationwide; the president's executive order does not apply."
Both judges were appointed by former President George W. Bush.
Trump's administration did not immediately comment on either ruling Friday.
___
http://www.breitbart.com/news/federal-judge-in-seattle-blocks-trumps-travel-order-nationwide/