Officials sought shelter for children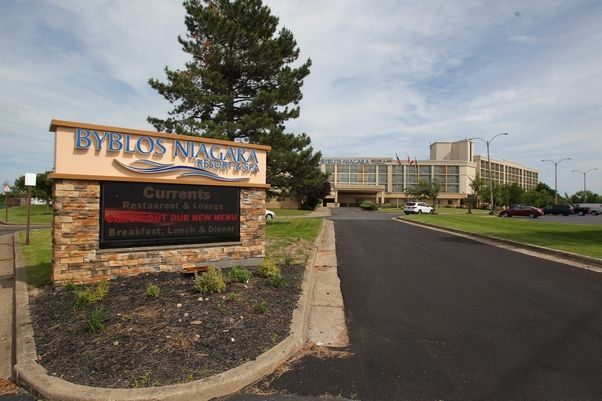 by Jerry Zremski
WASHINGTON – A humanitarian tragedy at the U.S.-Mexican border took a weirdly comic turn in Grand Island on Friday, as federal officials showed up at what they thought was a vacant hotel that might be able to house children who entered the country illegally – only to discover the fully occupied and recently renamed Byblos Niagara Resort and Spa.
The federal agents arrived unannounced at about 10 a.m. to inspect the 263-room property for possible use as housing for some of the 52,000 unaccompanied minors who have been apprehended at the southern border this year.
"They were thinking the hotel was abandoned and closed," said Scott Swagler, the general manager of the facility, a former Holiday Inn undergoing a $10 million renovation.
One of the visitors was a Customs and Border Patrol agent and another had a badge that said "DHS" (Department of Homeland Security), Swagler said.
Judging from their questions, it seemed they were doing a security analysis of the building, he added.
An occupancy analysis might have been more helpful, given that the hotel is currently fully booked and will be for much of the summer, according to Swagler.
What's more, a Google search would have revealed that the facility – previously a Holiday Inn that notoriously hosted an "Entice the Falls" swingers convention in 2009 – now offers an upscale range of amenities that still might not be appropriate for children.
"We feature tastefully appointed guest rooms with balconies overlooking the river, a fitness center, indoor and outdoor pools, plus a sauna and whirlpool," the hotel's website says. "Take in a round of golf at the adjacent River Oaks Golf Course. Enjoy a delicious meal in Currents Restaurant overlooking the river and unwind over a cocktail in our comfortable lounge."
The hotel is located at 100 Whitehaven Road in residential Grand Island, where neighborhood residents might feel uncomfortable with children who entered the country illegally moving in nearby, Swagler said.
"It was a complete shock to me" that the government would consider the facility for such a purpose, he added.
It was also apparently a complete shock to the government agents to discover what the Byblos Niagara Resort and Spa is really like. Byblos Hospitality Group of Dubai joined two local partners – downtown Buffalo developer Roger Trettel and Buffalo General Medical Center surgeon Dr. Fadi Dagher – to purchase the hotel in January 2013, and the new owners already have spent at least $4 million on renovations, Swagler said.
After seeing the facility, the government officials – who did not leave business cards – left, telling Swagler, "It looks like there's been a mistake."
How that mistake was made remains a mystery.
Swagler said the agents told him that Acquest Development, an Amherst company that recently developed a new federal building in Buffalo, recommended the Grand Island site to the federal government. Michael Huntress, Acquest's founder, did not respond to a phone call seeking comment.
Local officials and members of Congress did not know the building was under consideration for housing children living in the country without legal permission until Friday afternoon, when they received an email from Fatima A. Cuevas, deputy assistant secretary for legislation at the Department of Health and Human Services, where the Administration for Children and Families' Office of Refugee Resettlement is trying to accommodate all the new arrivals.
"The U.S. Department of Health and Human Services and General Services Administration will be conducting an initial assessment of Lexington Commerce Center in Rochester, NY (located at 1600 Lexington Ave.) and the Byblos Niagara Resort in Grand Island, NY (located at 100 Whitehaven Road) to determine whether it may be used as a facility for temporarily housing children who have come into the United States from other countries without an adult guardian," wrote Cuevas. Asked via email about how HHS ended up inspecting a fully occupied resort and spa, Kenneth J. Wolfe, a spokesman for the Administration for Children and Families, did not reply.
And when questioned for details of the plan earlier in the day, Wolfe would only say: "We do not identify the locations of regular/permanent Unaccompanied Alien Children program shelters, for the safety and security of minors and staff."
The government agents' unusual visit to the Byblos resort came on the same day that the Obama administration announced a series of measures aimed at stemming the tide of Salvadoran, Guatemalan and Honduran families fleeing to the U.S.
Those measures include an increase in immigration judges and attorneys, new detention facilities for families that arrived illegally in the U.S. and economic aid to help El Salvador, Guatemala and Honduras resettle its citizens once they are sent back home.
Children who arrive in the U.S. alone pose a much more difficult challenge for the federal government.
Under federal law, Border Patrol agents must hand those children over to the Department of Health and Human Services within 72 hours of their arrival. That agency then tries to place those children with family members if possible as they await immigration hearings, but many of the new arrivals have no family in the U.S., meaning the government has to accommodate them elsewhere.
There is no evidence to date of large numbers of homeless alien children arriving in upstate New York, said Eva Hassett, executive director of the International Institute of Buffalo, which operates a refugee resettlement program.
But writ large, "this is an enormously serious problem," Hassett said. "These are basically people who are running for their lives, who are in great danger on a lot of different levels."
"It's obvious that the federal government made a mistake here," Higgins said. "Obviously something that is of a sensitive nature like this would require due diligence that was obviously not exercised here." Meanwhile, Rep. Chris Collins, R-Clarence, said the episode is yet more evidence that the Obama administration has failed to effectively enforce the nation's immigration laws.
"Attempts today by Washington bureaucrats to transfer undocumented immigrants to the Byblos Niagara Resort in Grand Island further exemplify their incompetence," Collins said. "Unfortunately, this is no laughing matter."
For his part, though, Swagler couldn't help but find some humor in his surprise visit with the federal agents.
"We were joking with them about maybe sending them over to the Statler," he said.