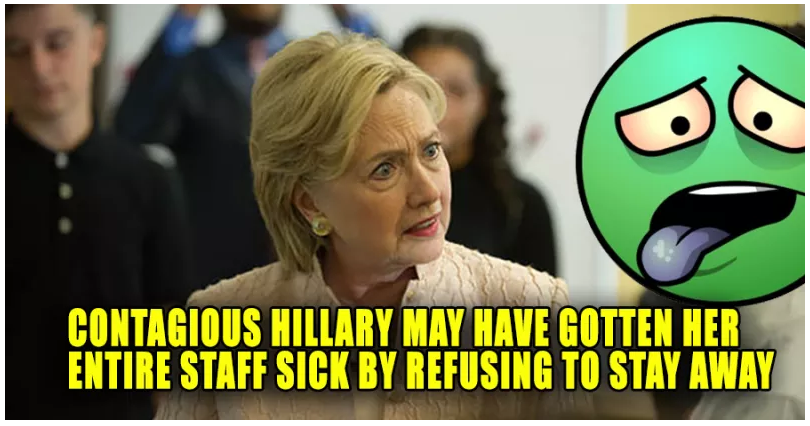 BY TRUTHFEEDNEWS
According to recent reports, Hillary Clinton refused to spend time away despite being diagnosed with Pneumonia, which is generally extremely contagious.
In addition, according to the timeline, she was diagnosed on Friday, but attended events on both Saturday and Sunday, endangering everyone around her for selfish purposes, even a young child.
Now a new NY Post report brings to light the likely possibility that Hillary got her entire staff sick with her antics.
Hillary Clinton's campaign headquarters has been hampered by illness — including respiratory infections — sending senior staffers to doctors and hospitals.

News of the widespread illness comes the day after Clinton suffered a "medical episode" and departed a 9/11 memorial service early. As she was leaving, Clinton was propped up by aides and Secret Service agents and even appeared to collapse as she entered a waiting van, according to video captured by a bystander.

"I went to doc last week and took antibiotics," a senior staffer texted The Post. Asked whether he had pneumonia, the staffer said, "Doc said prob bronchitis. But wasn't definitive. So maybe."

The staffer had been coughing for weeks — and said many around him had come down with something severe.

"I was actually sick for a couple of days," spokesman Brian Fallon told MSNBC Monday. "I think I had the mild form of it."

Fallon said the sickness was widespread — even touching Clinton's campaign manager. "But everybody from Robby Mook to several of the senior staff here have been afflicted with something or other for the last few days."
___
http://truthfeed.com/breaking-a-contagious-hillary-may-have-gotten-her-entire-staff-sick-by-refusing-to-stay-away/23221/