The Boxing Great Was Considered
By Many To Be:
FEARLESSNESS Exemplified
COURAGE Personified
HEROISM Embodied
BRAVERY Epitomized
VALOR Incarnate
All of which are conspicuously lacking within the U.S. body politic in 2016,
which is why Ali is so greatly admired the world over for speaking truth to
power in a nation that has since banished truth from the public discourse.
Lest the reader mistake that SOTN was somehow impressed with the life of Muhammad Ali, let us straightaway set the record straight.
In the firmament of modern American heroism — REAL HEROISM — not fake and phony corporate-created heroes, Muhammad Ali stands alone.  There's no one even close to him as far as bona fide heroism is concerned.
Even the likes of Martin Luther King Jr. and John F. Kennedy, Malcolm X and Robert F. Kennedy all stand in the shadow cast by the incomparable Muhammad Ali.  Yes, he was that genuinely great and truly a great American hero.
The decade of the 1960's was in truth the decade of American heroism.  It was also the decade when our heroes were ruthlessly killed so that their voices would be silenced.  Only one hero made it out of the decade alive.
Muhammad Ali made it out alive because he was chosen by the Universe to fulfill a very special mission.  It was a mission that could only be fulfilled by true spiritual warrior and man who would live his courage with complete fearlessness.
If you look at Ali's entire life, especially the 1960's and early '70's, you will see unbreakable threads of raw courage and true grit which are rarely, if ever seen, in American society. That's not to say there have not been a lot of courageous acts by other Americans; rather, only Muhammad Ali was permitted to perform those acts on the highest public platform in the land.  So his destiny was preordained in the heavens with extraordinary greatness and magnanimity.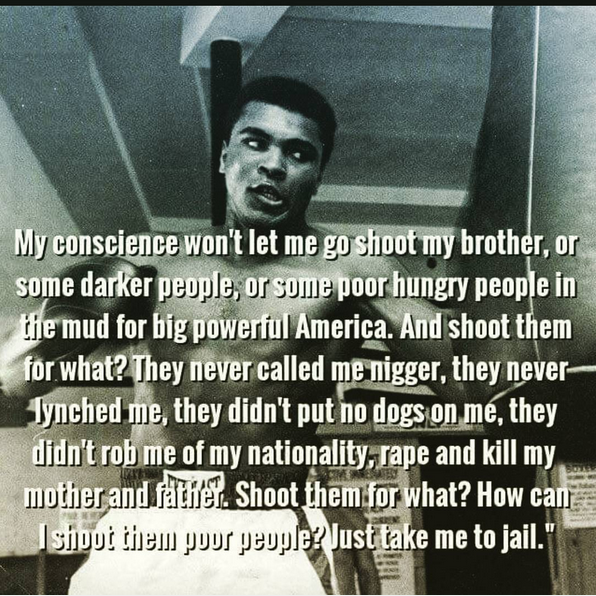 How about some context
He was named for his father, Cassius Marcellus Clay Sr., who himself was named in honor of the 19th-century Republican politician and staunch abolitionist, Cassius Marcellus Clay


He grew up in racial segregation. His mother recalled one occasion where he was denied a drink of water at a store. "They wouldn't give him one because of his color. That really affected him." [1]
We're talking about a dirt-poor black kid who grew up on the poor side of the tracks in the urban ghettos of Louisville, Kentucky. It was out of this contest that Cassius Clay would evolve into a modern-day Spartacus.  Spartacus?!
Clay was born in 1942 which makes him a full-fledged member of the Beat Generation. No, ostensibly he was not a Beatnik, but he certainly thought and acted like one.  Only by understanding the Beatnik temperament and philosophy of life can anyone begin to understand the real forces that shaped Ali's life which produced such greatness.
The Beatniks were in fact the greatest generation of the entire era, the whole epoch known as the Iron Age or "Age of Conflict".  Not only did they break free from the Consumer Society, they flatly rejected the perpetual war economy that was foisted on America by the Military-Industrial Complex.

The Beat Generation will be forever known as the most countercultural and iconoclastic, radical and rebellious, non-conforming and independent of modern history.  No other generation had ever expressed their quiet rage against the war machine. In fact the Baby Boomer hippies only became the force in society that they became because of their Beatnik mentors and teachers.
(Source: The Feud that Dictated the Destiny of the World)
His Real Life's Mission Emerges
Not only did Muhammad Ali's upbringing compel him to throw off the yoke of plantation mentality which he did with a vengeance, he went one very big step further and extricated himself from the war mentality that had gripped the nation via the Military-Industrial Complex. In fact, his anti-Vietnam War stance was as fierce and ferocious as anyone in American society at that time.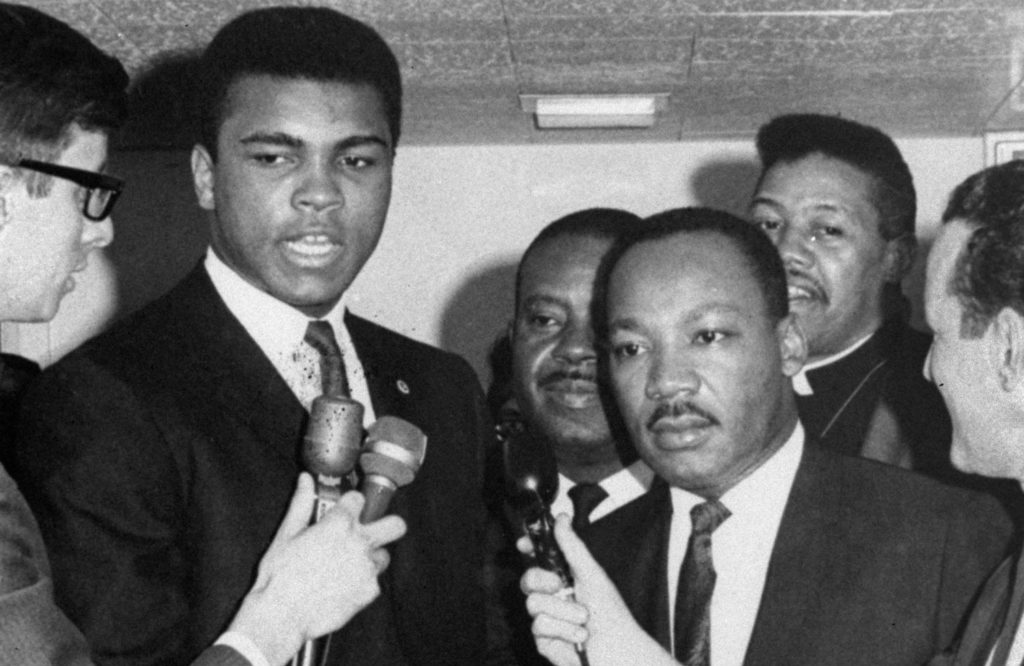 So galvanizing was his mission as the college campus pied piper against the war, that he ultimately inspired the likes of MLK and RFK to loudly speak against its escalation so that the Vietnam war would be terminated altogether.  Ali's part in the anti-war movement has been described thusly:
Even Martin Luther King Junior was inspired by Muhammad Ali when he saw him go from college campus to college campus riling up the students against the corporate-driven Vietnam War.  King was so empowered that he, too, found his voice in order to warn his black kin that they would be sacrificed in Nam in much greater numbers than their white brethren. And so they were.  And so was MLK killed for his forceful speeches uttered against the evils of the Vietnam War, as well as the perpetual war economy.
(Source: Here's Why There Is Such a Worldwide Outpouring of Praise and Respect for Muhammad Ali)
The transformation which occurred when he went from Cassius Clay (via Cassius X) to Muhammad Ali was truly remarkable.  It was his baptism by fire on March 6, 1964 that he became Muhammad Ali, a spiritual name bestowed upon him by Nation of Islam leader Elijah Muhammad.  If there was a single rite of passage in his life which served to inform him of his life's mission and infuse him with the courage to carry it out, the day he received his holy name was it.
______________________________________________________________
Special Note:
Muhammad Ali somehow knew what very few people have ever learned in American society: That only a comedian can get away with speaking the truth.  That, when using a highly visible media platform, only a person who wraps hard truth in a wrapper of humor and satirical wit can get away with it unscathed.  This is the way it has always been, just as the court jester of old was able to utter unspeakable truths within the king's court.  Ali was the ultimate court jester, speaking truth to power whenever he chose to … because he did it only as he could do.  This is how he made it out of the 1960s alive.  This is another defining example of the deep wisdom possessed by an old soul.
______________________________________________________________
Conclusion
It is certainly no accident that Muhammad Ali passed in 2016— the Chinese Year of the Red Fire Monkey.*  For he was the quintessential Fire Monkey in the way he lived his life and fulfilled his dreams.  Everything about him screams of the primordial Fire Monkey energy which now permeates the American body politic.  With his passing his galvanizing energy has been liberated to be infused within the many who never knew him or heard of him.
*The "Red Fire Monkey" is well known to be the most powerful and courageous, captivating and impressive, unpredictable and spontaneous, fierce and ferocious of all them all.  Just like Muhammad Ali was virtually invincible during his moment on the world stage, so, too, is the Fire Monkey.  While he was beating us upside the head with his wise admonitions and pithy advice, he was entertaining us like no one has ever done before.  Caution: If there is one animal in the jungle who you do not want to tangle with it is the Fire Monkey.  George Foreman found that out the hard way during The Rumble in the Jungle that was fought in Kinshasa, Zaire.  
All the generations which have followed the Beatniks and Baby Boomers are now in desperate need of inspiration which only the likes of a Muhammad Ali can deliver.  Hence, his quite timely passing ought to serve as a reminder to each and every one of us of the inherent greatness that each of us possesses.  Only when we get in touch with that greatness within can we express it without.  Like Muhammad Ali, aren't we also being called during these highly challenging times to rise to the occasion? And, to meet the dire needs head on of this most urgent day and time.
As the inimitable, the unrivaled, the awesome Muhammad Ali did during his glorious time on Earth, may we all seize the day.  Yes, Carpe Diem!  As the G.O.A.T. (greatest of all time) once did:
Carpe Diem ! ! !  
State of the Nation
June 6, 2016
Editor's Note

Author's Note
Quite contrary to the post-modern mindset, the gods often do come down here to play. When they do they almost always put on the very best disguises.  In the form of Muhammad Ali was a most excellent costume of consummate professional boxer and peerless social advocate worn very naturally.  He even captured our undivided attention by repeatedly proclaiming that he was the greatest.  His chronic clowning around and self-deprecating humor served to loosen up his audience — that would be US — so that there would be openness to what he was really communicating.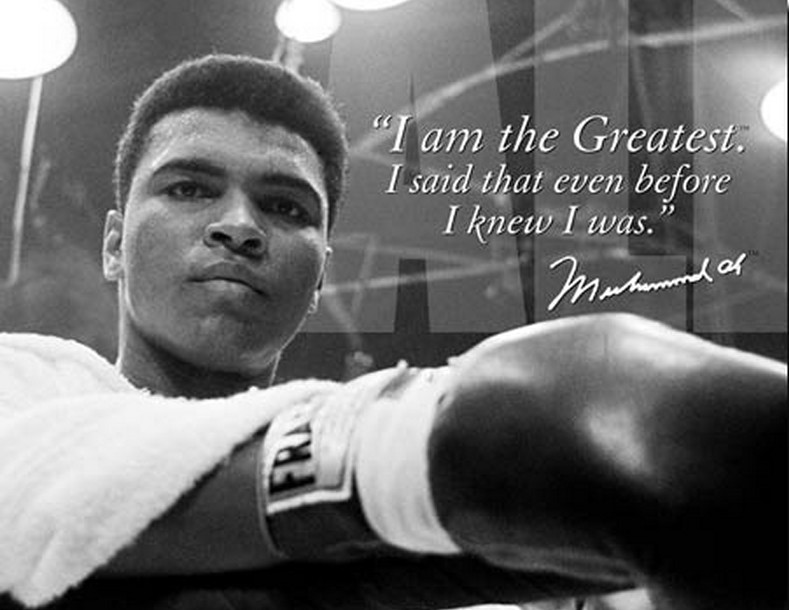 In this way did Ali craftily lay the groundwork for all of those vital messages that would be imparted throughout his lifetime. Don't you see how intuitively clever he really was?  Then he went out and got Parkinson's disease which prevented him from speaking out loud those same but extremely dangerous sermons.  He knew that had he continued to preach his message of racial harmony and brotherly love, world peace and no more war, he would eventually be JFKed—NO DOUBT ABOUT IT.
Source
[1] Muhammad Ali
Reference
Muhammad Ali: "The Smartest One in the Room and Most Courageous Guy on the Block"
10 Things You May Not Know About Muhammad Ali