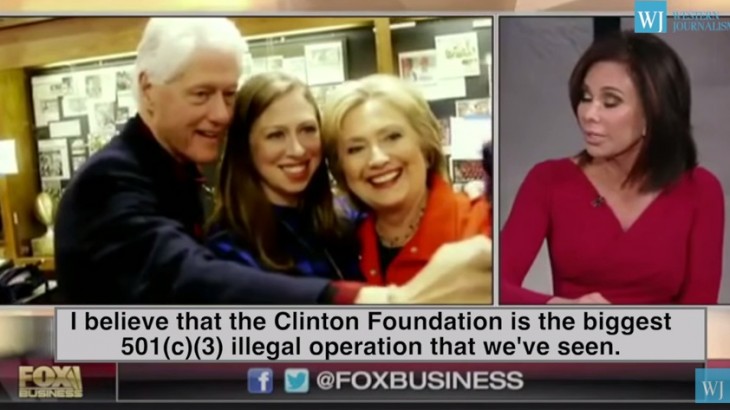 Judge Jeanine Reveals Another Hillary Scandal – It's Even Bigger Than Her Email Scandal
TeaPartyJOURNAL
Fox News host, former prosecutor and New York judge Jeanine Pirro appeared recently on 'Mornings with Maria' to discuss the investigation into the Clinton Foundation.
The Clinton Foundation came under fire last fall when allegations were made that donors who gave large donations to the Clinton Foundation somehow benefitted from Hillary's role as Secretary of State, creating a type of 'pay to play' scenario.
Considering that the Clinton Foundation is a 501c3 tax exempt nonprofit organization, that means that its purposes are supposed to be exclusively for "charitable, religious, educational, scientific, literary, testing for public safety, fostering amateur sports competition, or preventing cruelty to children or animals."
Judge Jeanine also pointed out that the investigation into the allegations of money laundering and the 'pay-to-play' influence peddling could have a massive impact on Hillary's run for president.
The judge also made it clear that any recommendation for an indictment from FBI Director Comey would place the Obama administration in a tough spot. Do they want to be in a position where their Secretary of State goes down or do the want to take the high road going forward and make a stand for justice?
Which do you think it will be?

—
http://teapartyjournal.com/judge-jeanine-reveals-another-hillary-scandal-its-even-bigger-than-her-email-scandal/