Hurricane Dorian could be worst storm to hit Central Florida in three decades if current track holds, meteorologist says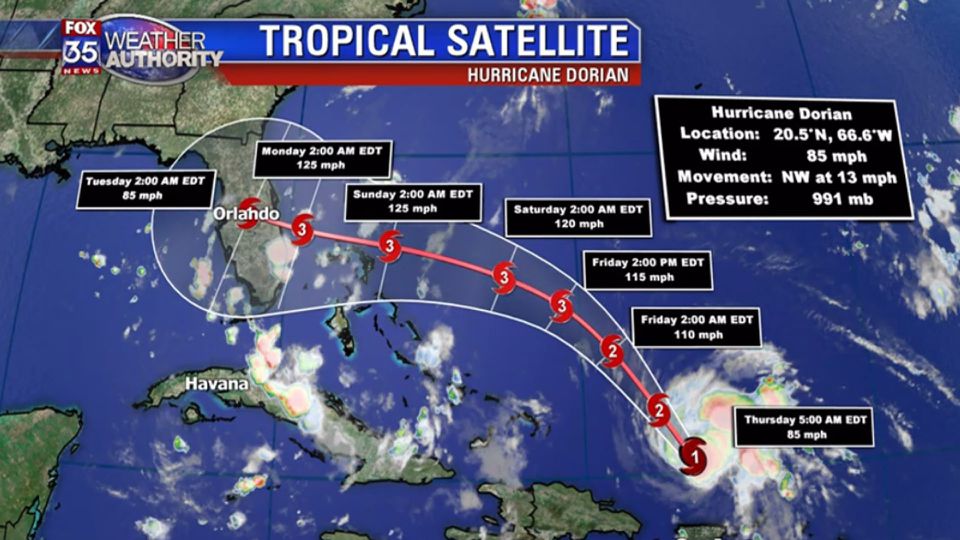 By TIFFINI THEISEN, DAVID HARRIS and RICHARD TRIBOU
ORLANDO SENTINEL |
Hurricane Dorian was expected to become a "dangerous" storm as it trudges toward Florida after sweeping through the U.S. Virgin Islands on Wednesday, the National Hurricane Center said.
"The biggest change with the latest track from the National Hurricane Center shows Dorian making a slower approach to Florida – with landfall South of Cape Canaveral on Labor Day," said Fox 35 meteorologist Kristin Giannas today. "The intensity hasn't changed – it's still expected to become a major Category 3 storm with sustained winds at 125 mph. The storm is moving into an environment with low wind shear, and over very warm water so rapid intensification is likely."
As of 5 a.m., Dorian was a Category 1 storm with winds strengthening to 85 mph winds and located 150 miles north-northwest of San Juan, Puerto Rico, moving northwest at 13 mph. The storm is expected to grow in size and could hit Category 3 status before reaching Florida's east coast.
The overnight forecast models showed the storm slowing somewhat, with the center now hitting land early morning Monday. By early Tuesday morning it could still be a Category 2 hurricane as it moves over the Orlando area.
"This would be the strongest hurricane to hit Central Florida in over 30 years," Fox 35 meteorologist Glenn Richards said Wednesday evening. "Hurricane force sustained winds would be carried across the entire width of the state if the current forecast holds."
Right now the storm is fairly tight with hurricane-force winds only extending out 15 miles, and tropical storm force winds extending out 90 miles, but the warm waters of the Atlantic as Dorian approaches the northwest Bahamas should allow the storm to grow in both intensity and size, according to discussion on the NHC's website.
Several of the forecast path models target Central Florida for landfall, but forecasters stress that anyone in the cone, which includes the entirety of Florida's east coast, should be prepared.
"It's too soon to say exactly where the storm will make landfall," Giannas said. "A lot depends on the strength of a ridge of high pressure in the Atlantic, which could steer the storm further south or further north. As of 5 a.m., the GFS model is showing a weaker ridge and is bringing Dorian further north, while the EURO model is showing a stronger ridge, pushing the storm toward South Florida."
The cone of uncertainty shows it could also be anywhere from coastal Georgia to the southern tip of Florida or west of Florida in the Gulf of Mexico by Tuesday morning.
Florida Gov. Ron DeSantis on Wednesday evening declared a State of Emergency.
"Today, I am declaring a state of emergency to ensure Florida is fully prepared for Hurricane Dorian," DeSantis said. "It's important for Floridians on the East Coast to monitor this storm closely. Every Florida resident should have seven days of supplies, including food, water and medicine, and should have a plan in case of disaster. I will continue to monitor Hurricane Dorian closely with emergency management officials. The state stands ready to support all counties along the coast as they prepare."
Central Floridians have started preparing for the hurricane, which could hit the area on Monday.
Some grocery stories were already seeing their stocks of bottled water and other supplies dwindle, with a Publix spokesman saying the chain was experiencing "impact buying" from customers. Generators, tarps, batteries and battery-powered weather radios were being snapped up at Home Depot stores.
Orlando resident Ed Smith loaded up his vehicle with four cases of bottled water and other groceries Wednesday afternoon. "I'm not going to go crazy," said Smith, 62.
The University of Central Florida, where classes for the fall semester just started on Monday, is watching the path of the storm and urged students living on campus to move to safe off-campus locations if the storm stays on the same track.
At Jay Blanchard Park in East Orange County, county workers were handing out shovels and bags on Wednesday for residents to make their own sandbags. Almost 7,000 bags had been filled by late afternoon.
And on the coast, teams at Kennedy Space Center and Cape Canaveral Air Force Station are working to secure multimillion-dollar equipment before Dorian hits. KSC teams are preparing to potentially move the mobile launcher, which is the steel ground structure that attaches to a rocket for preparations and launch. It's currently at launch pad 39B and will be used to launch NASA's upcoming rocket, the Space Launch System, and astronaut capsule Orion for upcoming missions to the moon.
Port Canaveral, which is close to the projected path of what could be a Category 3 hurricane when it strikes, is also on alert. Cruise lines were making adjustments based on Dorian's projected path. Carnival Cruise Line shifted Carnival Breeze out of Port Canaveral to bypass San Juan on Wednesday and adjusted schedules for Carnival Sunrise out of New York and Carnival Magic out of Fort Lauderdale. Royal Caribbean closed down CocoCay, its private island in the Bahamas that features a water slide that rises more than 135 feet above the most flat island.
As Hurricane #Dorian approaches, I've declared a state of emergency to ensure local governments and emergency management agencies have ample time, resources and flexibility to get prepared. Please continue to follow local reports and @FLSERT for updates. https://t.co/FyQM6wd8er

— Ron DeSantis (@GovRonDeSantis) August 28, 2019
Parts of Florida could expect 4 to 8 inches of rain, and up to 12 inches in isolated areas later this week and into early next week.
"Given the favorable environment of warm waters and low shear prevailing in the western Atlantic, the NHC forecast calls for a marked intensification, and brings Dorian to category 3 intensity in 72 hours, and keeps it at that intensity until landfall," the NHC said.
Orlando International Airport on Wednesday said eight flights to and from Puerto Rico have been canceled so far.
The Orlando Utilities Commission invited customers in Orange and Osceola counties to sign up for outage alerts, which include estimated restoration times, at my.OUC.com or by texting REG to 69682 (myOUC).
Altamonte Springs is providing sand and bags for city residents starting Thursday at Eastmonte Park and Westmonte Recreation Center from 8 a.m. to 8 p.m. Residents must bring their own shovel and each household is limited to 15 bags.
"Prep is key and should be completed ASAP, Saturday at the latest," Fox's Jayme King said.
"The risk of dangerous storm surge and hurricane-force winds later this week and this weekend continues to increase in the central and northwestern Bahamas and along the Florida east coast, although it is too soon to determine where these hazards will occur," the NHC said in its 5 p.m. update. "Residents in these areas should ensure that they have their hurricane plan in place and not focus on the exact forecast track of Dorian's center."
The storm hit the Virgin Islands on Wednesday and a weather station south of St. Thomas recorded a gust of more than 110 mph, the NHC said.
In Puerto Rico, the change in the storm's course concerned many across the U.S. territory, where some 30,000 homes still have blue tarps as roofs nearly two years after Hurricane Maria. The island's 3.2 million inhabitants still depend on a shaky power grid that has remained prone to outages since it was destroyed by the Category 4 storm.
We are tracking closely tropical storm Dorian as it heads, as usual, to Puerto Rico. FEMA and all others are ready, and will do a great job. When they do, let them know it, and give them a big Thank You – Not like last time. That includes from the incompetent Mayor of San Juan!

— Donald J. Trump (@realDonaldTrump) August 28, 2019
On Wednesday morning, Trump tweeted: "We are tracking closely tropical storm Dorian as it heads, as usual, to Puerto Rico. FEMA and all others are ready, and will do a great job. When they do, let them know it, and give them a big Thank You – Not like last time. That includes from the incompetent Mayor of San Juan!"
Although top government officials in Puerto Rico said they were prepared for the storm and had sufficient equipment, a couple of mayors, including those in the western region, said they did not have enough generators or shelters that were properly set up.
Puerto Rico Gov. Wanda Vázquez urged those living in flood-prone areas or under a blue tarp to move into one of the island's 360 shelters on Tuesday night. Housing Secretary Fernando Gil has said some 9,000 to 13,000 homes with blue tarp roofs are located in the region that Dorian is expected to affect the most.
Officials also said public schools and government offices would remain closed through at least Thursday.
Meanwhile, Tropical Storm Erin, located more than 160 miles off the coast of Cape Hatteras, N.C., weakened to a tropical depression with maximum sustained winds of 35 mph.