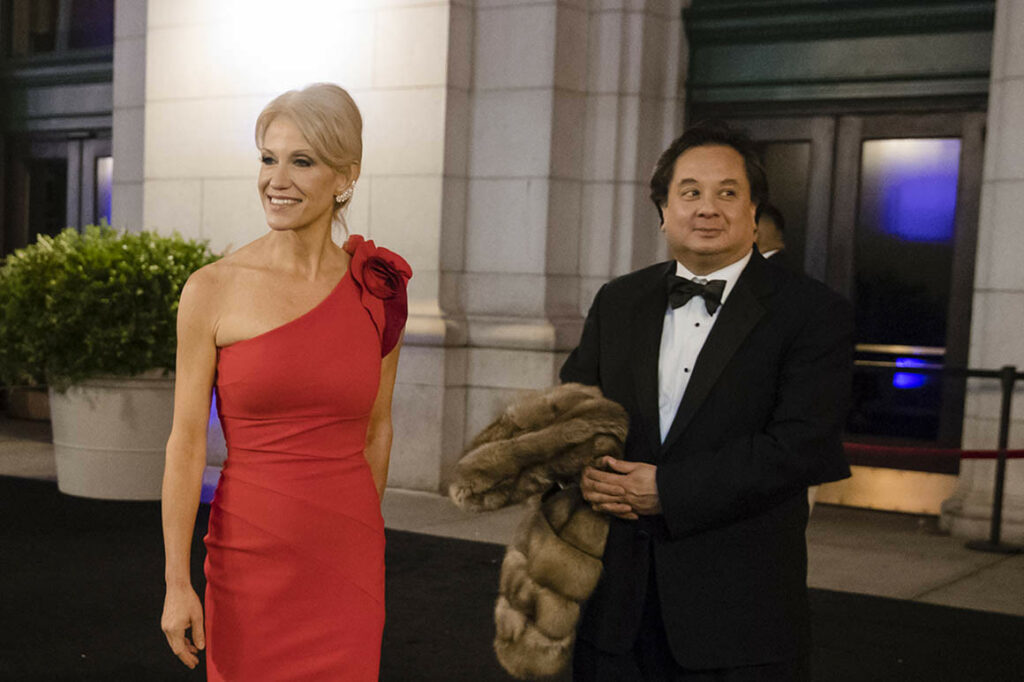 Kellyanne Conway takes Trump's side in fracas with husband George
by Diana Stancy Correll
Washington Examiner
White House counselor Kellyanne Conway defended President Trump after her boss labeled her husband George Conway a "total loser" for suggesting he has mental health issues.
"He left it alone for months out of respect for me," Kellyanne told Politico Wednesday. "But you think he shouldn't respond when somebody, a non-medical professional accuses him of having a mental disorder? You think he should just take that sitting down?"
"Don't play psychiatrist any more than George should be," she said. "You're not a psychiatrist and he's not, respectfully."
Although George Conway frequently criticizes Trump, Kellyanne Conway said the dispute between her husband and boss hasn't impacted her job.
"Why would it affect my job? Hasn't everybody tried to push me out already and here I am, stronger than ever," she said. "You're looking at it the wrong way."
George Conway revived his feud with Trump, suggesting the president may have a narcissistic personality disorder and antisocial personality disorder when he tweeted out excerpts from the American Psychiatric Association's Diagnostic and Statistical Manual of Mental Disorders. Similarly, he said he thinks Trump's mental state is deteriorating.
Those swipes came after Trump spent much of the weekend tweeting, floating the idea of a federal investigation into "Saturday Night Live" and attacking the late Sen. John McCain.
In an interview with the Washington Post, George Conway, a conservative lawyer, said he goes after Trump on Twitter so he doesn't "end up screaming" at his wife.
"It's so maddening to watch," Conway said. "The mendacity, the incompetence, it's just maddening to watch. The tweeting is just the way to get it out of the way, so I can get it off my chest and move on with my life that day. That's basically it. Frankly, it's so I don't end up screaming at her about it."
Trump, who first responded to George Conway's tweets by calling him a "total loser," punched back again on Wednesday, arguing George is jealous of his wife's success in his administration.
"George Conway, often referred to as Mr. Kellyanne Conway by those who know him, is VERY jealous of his wife's success & angry that I, with her help, didn't give him the job he so desperately wanted," Trump tweeted. "I barely know him but just take a look, a stone cold LOSER & husband from hell!"
While Trump and his associates have suggested George Conway was either fired, quit, or rejected from a job at the Justice Department, he claims that he turned down a position at the agency heading the civil division because of Trump's attacks on agency leaders and the firing of FBI Director James Comey in May 2017.
Kellyanne Conway said Trump has always treated her with respect and that she's only talked with Trump about the criticism against her husband "in passing." She declined to comment to Politico on whether she hopes Trump discontinues his attacks on social media against her husband.
___
https://www.washingtonexaminer.com/news/kellyanne-conway-defends-trumps-attacks-on-husband-hes-a-counterpuncher