Report: Trump Angry Over Schiff Hiring Ex-NSC, White House Staffers for Probe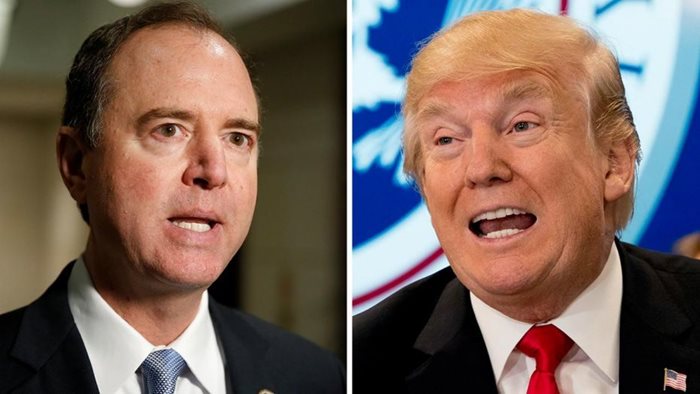 NEWSMAX
Donald Trump believes House Intelligence Chairman Adam Schiff is trying to hire White House employees to gain an edge in his investigation of foreign attempts to influence the president, people familiar with the matter said.
Schiff has hired one former career official at the National Security Council, Abigail Grace, who left the White House last year. She has a congressional email address and is listed in a directory as working for the Intelligence Committee's Democratic majority.
A second career employee detailed to the Trump White House is also considering joining Schiff's staff, according to people familiar with the matter. They didn't identify the person.
Grace didn't respond to an email requesting comment and her duties under Schiff aren't known. But the California Democrat's attempts to hire people with experience working under Trump have led to speculation among Trump's aides and allies that Schiff is looking for insider knowledge of the White House as he probes whether the business dealings of the president and his family have made them vulnerable to espionage.
Trump himself expressed his frustration on Twitter early Thursday.
"So now Congressman Adam Schiff announces, after having found zero Russian Collusion, that he is going to be looking at every aspect of my life, both financial and personal, even though there is no reason to be doing so," Trump wrote."Never happened before! Unlimited Presidential Harassment…
"….The Dems and their committees are going "nuts." The Republicans never did this to President Obama, there would be no time left to run government. I hear other committee heads will do the same thing. Even stealing people who work at White House! A continuation of Witch Hunt!"
A House Intelligence Committee aide told CNN that the panel has hired individuals with experience on the NSC staff. They added that the committee would not discriminate about hiring individuals from the current administration.
"We have hired staff for a variety of positions, including the committee's oversight work and its investigation," the aide said. "Although none of our staff has come directly from the White House, we have hired people with prior experience on the National Security Council staff for oversight of the agencies, and will continue to do so at our discretion. We do not discriminate against potential hires on the basis of their prior work experience, including the administration."
Schiff couldn't be reached for comment and his spokesman declined to comment.
One official affiliated with the panel who asked not to be identified discussing its work said the committee has hired staff for "a variety of positions" including oversight work and investigations. The official said none were hired directly from the White House and that it was appropriate to seek people with prior National Security Council experience for agency oversight.
One Democratic official familiar with the committee's activities who also asked not be identified discussing its work said the hiring reflects a longstanding reality that people in government change jobs throughout their careers. There is no intent to try to obtain backdoor information about Trump from new hires, the official said.
Asia Expert
Grace served on the National Security Council from 2016, the tail end of the Obama administration, until last year, according to a biography at her most recent employer, the Center for New American Security. She is a specialist on China and North Korea. She only recently began working for the Intelligence Committee and a reporter who attempted to reach her by phone was referred to a Democratic spokesman for the panel.
Holdover White House staff from the Obama administration, particularly those working on the National Security Council, have long been a concern of some Trump aides and supporters. They've coined the term "Deep State" to describe what they suspect to be a large faction of government employees opposed to the president's agenda.
Schiff and the leaders of other House committees this week are ramping up investigations of the president that were widely expected following the Democratic takeover of the chamber in the November midterm elections.
Schiff on Wednesday said his panel is probing whether foreign governments or individuals had improper leverage over the president or his business interests. That's a sea-change from last year, when the Republicans who controlled the panel closed an investigation into Russian interference in the 2016 campaign with a report asserting that Special Counsel Robert Mueller's parallel criminal investigation was tainted by anti-Trump bias.
Trump on Wednesday called Schiff "just a political hack who's trying to build a name for himself" and called the committee's new investigation "presidential harassment."
© Copyright 2019 Bloomberg News. All rights reserved.
___
https://www.newsmax.com/politics/trump-schiff-hiring-nsc/2019/02/07/id/901750/