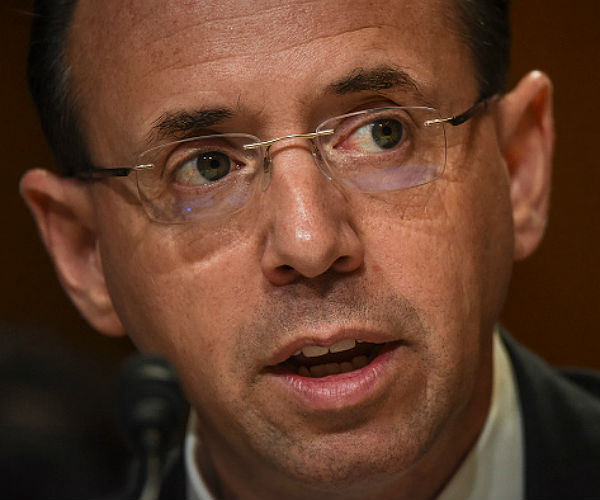 By Cathy Burke | NEWSMAX
House Freedom Caucus head Rep. Mark Meadows, R-N.C., on Thursday called for Deputy Attorney General Rod Rosenstein to resign "immediately."
The demand reflects an escalating dissatisfaction with the Department of Justice's No. 2 official — both for his lack of "candor" and failure, so far, to appear before lawmakers, The Hill reported.
In September, Meadows pressed for Rosenstein to either testify before the House Judiciary Committee or step down.
"I think at this particular point, Rod Rosenstien's priorities are misplaced," Meadows told reporters, The Hill reported. "His unwillingness to come before Congress and allow us to conduct proper congressional oversight, along with the other information that we've learned over the last week or so, would indicate that Rod Rosenstein has not displayed the candor of which would support one's theory of actually believing that he has been open and honest in all regards."
"So with that, I think that it's time that Rod Rosenstein steps down," he added. "He should do so immediately and in doing that, I think it would serve the country well, it would serve this president well."
Rosenstein oversees special counsel Robert Mueller's Russia probe, which the Freedom Caucus and other conservatives have blasted as biased against President Donald Trump.
Conservative lawmakers also have been trying to grill Rosenstein about his reported consideration of wearing a wire to record Trump, and of invoking the 25th Amendment.
Another Freedom Caucus member, Rep. Jim Jordan, R-Ohio, on Thursday chastised Rosenstein for giving an interview to The Wall Street Journal — but bailing on testifying before Congress.
"Rosenstein interviews with @WSJ where he says Mueller investigation is 'appropriate and independent.' Translation — there's time for media spin to justify Mueller probe but no time to answer questions from Congress about his statement on recording the President," Jordan tweeted.
___
http://www.newsmax.com/newsfront/rod-rosenstein-meadows-house-freedom-caucus/2018/10/18/id/886981/