ZeroHedge.com
President Trump's campaign on Tuesday filed charges against former aide Omarosa Manigault-Newman, claiming she violated a 2016 nondisclosure agreement (NDA) by disparaging the president in her new book, and secretly recording conversations with Trump and White House chief of staff John Kelly, the latter of which took place in the ultra-secure Situation Room – a SCIF (Sensitive Compartmented Information Facility) when Kelly fired her last December, reports the Washington Examiner.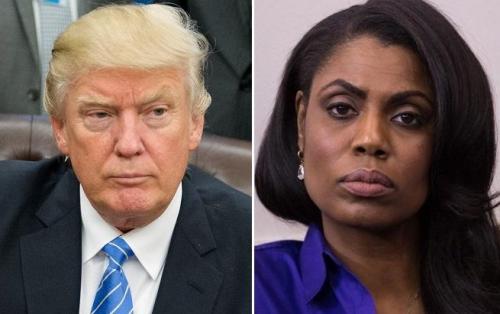 In New York, Trump campaign lawyers filed for arbitration to force the former star of "The Apprentice" to abide by the agreement they say she signed when joining the 2016 campaign.

According to a sample of the agreement provided to Secrets, she was required to keep proprietary information about the president, his companies or his family confidential and to never "disparage" the Trump family "during the term of your service and at all times thereafter." –Washington Examiner
A Trump campaign official said in a statement "Donald J. Trump for President, Inc. has filed an arbitration against Omarosa Manigault-Newman, with the American Arbitration Association in New York City, for breach of her 2016 confidentiality agreement with the Trump Campaign," adding "President Trump is well known for giving people opportunities to advance in their careers and lives over the decades, but wrong is wrong, and a direct violation of an agreement must be addressed and the violator must be held accountable."
In her book, Unhinged: An Insider Account of the Trump White House, and especially on her controversial book tour on TV, she has turned on her former friend and employer, calling him unfit for office. She claimed he used racist language during the filming of "The Apprentice," but insiders and Trump deny the claim. She has also revealed private conversations she had with Trump and others, including from the secret White House Situation Room, a potential violation of federal law. –Washington Examiner
Trump referenced the NDA in a Monday Tweet:
This is the NDA that Omarosa Manigault Newman claims she received after leaving the White House pic.twitter.com/k7DtoQ3myw

— Edward Hardy (@EdwardTHardy) August 13, 2018
On Tuesday, Omarosa provided CBS News with a new tape in which several Trump campaign officials reportedly discuss how to handle the fallout over an alleged tape of Trump using the N-word during his time on The Apprentice.
"I am trying to find at least what context it was used in to help us maybe try to figure out a way to spin it," Pierson is heard saying.

Patton then described a conversation she had with then-candidate Trump about making the slur.

Patton: "I said, 'Well, sir, can you think of anytime where this happened?' And he said, 'no.'"

Omarosa: "Well, that is not true."

Patton: "He goes, how do you think I should handle it and I told him exactly what you just said, Omarosa, which is well, it depends on what scenario you are talking about. And he said, well, why don't you just go ahead and put it to bed."

Pierson: "He said. No, he said it. He is embarrassed by it." –CBS News
Pierson denied the call ever took place on Monday night – before CBS obtained the recording, saying "No, Ed (Henry). That did not happen. Sounds like she is writing the script for a movie." Then on Tuesday, Patton and Pierson issued a joint statement, saying "No one ever denied the existence of conversations about a reported 'Apprentice' tape. Of course there were multiple discussions about it."
No one ever denied we had multiple conversations re: the Apprentice tape. To the contrary my interview w/@HuffPost proves @OMAROSA was obsessed & discussed it constantly. What we refuted is having a call that Luntz CONFIRMED Trump said it. Trump himself confirms to me he didn't pic.twitter.com/7dscnSUuIw

— 🇺🇸 Lynne Patton (@LynnePatton) August 14, 2018
On Monday, President Trump tweeted: ".@MarkBurnettTV called to say that there are NO TAPES of the Apprentice where I used such a terrible and disgusting word as attributed by Wacky and Deranged Omarosa. I don't have that word in my vocabulary, and never have."
.@MarkBurnettTV called to say that there are NO TAPES of the Apprentice where I used such a terrible and disgusting word as attributed by Wacky and Deranged Omarosa. I don't have that word in my vocabulary, and never have. She made it up. Look at her MANY recent quotes saying….

— Donald J. Trump (@realDonaldTrump) August 14, 2018
Omarosa's new disclosures coincide with the release of her new book, Unhinged. The former Apprentice contestant appeared on NBC's Meet the Press with Chuck Todd on Sunday where she dropped the Kelly recording – only to turn around and released a phone call with Trump in which he says he didn't know she was fired.
What's more – Omarosa was  caught in a lie about whether she heard President Trump use the N-word – claiming in her new book that someone told her pollster Frank Luntz heard Trump say it, which Luntz denied, while later telling NPR that she personally heard Trump say it. Luntz has denied this, calling Omarosa's fact checking "Very shoddy work."
I'm in @Omarosa's book on page 149. She claims to have heard from someone who heard from me that I heard Trump use the N-word.

Not only is this flat-out false (I've never heard such a thing), but Omarosa didn't even make an effort to call or email me to verify. Very shoddy work.

— Frank Luntz (@FrankLuntz) August 10, 2018
Another denied claim from her book is that former Trump attorney Michael Cohen was in a meeting in which Donald Trump took a note from Cohen and ate it.
LTo the many dozens of #journalists who called me, questioning @OMAROSA claim in her new book that @POTUS @realDonaldTrump took a note from me, put it in his mouth and ate it…I saw NO such thing and am shocked anyone would take this seriously.

— Michael Cohen (@MichaelCohen212) August 12, 2018
After Manigault-Newman released a second recording of her phone call with Trump post-firing, thje President hit back, tweeting: "Wacky Omarosa, who got fired 3 times on the Apprentice, now got fired for the last time. She never made it, never will. She begged me for a job, tears in her eyes, I said Ok," adding "People in the White House hated her. She was vicious, but not smart."
"Nasty to people & would constantly miss meetings & work. When Gen. Kelly came on board he told me she was a loser & nothing but problems. I told him to try working it out, if possible, because she only said GREAT things about me – until she got fired!"On Tuesday, Trump referred to Omarosa as a "dog" and a "crazed, crying lowlife":
Wacky Omarosa, who got fired 3 times on the Apprentice, now got fired for the last time. She never made it, never will. She begged me for a job, tears in her eyes, I said Ok. People in the White House hated her. She was vicious, but not smart. I would rarely see her but heard….

— Donald J. Trump (@realDonaldTrump) August 13, 2018
…really bad things. Nasty to people & would constantly miss meetings & work. When Gen. Kelly came on board he told me she was a loser & nothing but problems. I told him to try working it out, if possible, because she only said GREAT things about me – until she got fired!

— Donald J. Trump (@realDonaldTrump) August 13, 2018
On Tuesday, Trump referred to Omarosa as a "dog" and a "crazed, crying lowlife":
When you give a crazed, crying lowlife a break, and give her a job at the White House, I guess it just didn't work out. Good work by General Kelly for quickly firing that dog!

— Donald J. Trump (@realDonaldTrump) August 14, 2018
Last Saturday, President Trump called Manigault-Newman a "lowlife" when asked if he felt betrayed by the former aide. White House staff, meanwhile, have slammed Omarosa as a "disgruntled former White House employee" trying to "profit off these false attacks."
___
http://www.zerohedge.com/news/2018-08-14/trump-campaign-sues-omarosa-millions-sought-over-broken-nda