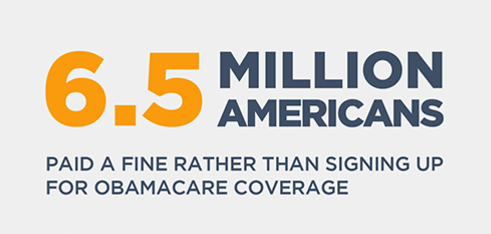 August 9, 2017: The individual healthcare mandate requires every American to buy health insurance or pay a fine. In 2016, 6.5 million Americans chose to pay the fine rather than sign up for insurance on the Obamacare exchanges.[1]
The mandate has always been the most unpopular part of President Obama's healthcare law, officially known as the Affordable Care Act. In addition to those who pay the fine rather than buy the mandated levels of insurance, 15 million people would drop their Obamacare coverage if it were legal to do so.
This does not necessarily mean that these individuals want to go without insurance. Obamacare requires every insurance policy to cover a set of what it defines as Essential Health Benefits.[2] The more benefits that a plan covers, the more expensive it is. Some people might prefer to buy less comprehensive insurance at a lower cost. For example, one option might be to buy insurance only for major healthcare costs such as surgeries or hospitalizations.
Since most Americans receive health insurance from their employer, the rising cost of healthcare is a key factor holding down wage growth. If the cost of benefits were the same today as a generation ago, the average pay for full-time workers would be more than $3,300 higher annually. Some people might prefer a bigger paycheck and less comprehensive coverage.
Healthcare policy analyst Bob Laszewski believes the ongoing unpopularity of Obamacare insurance coverage raises questions about "stability in the individual-health-insurance market." He notes that "only about 40 percent of those eligible for subsidies have signed up for coverage. In what other business or government program would such a dismal acceptance by those it was targeted to serve be considered a success?"[1]
Laszewski was named the Washington Post's Wonkblog "Pundit of the Year" for 2013 for his coverage of the Obamacare rollout.[3] Laszewski does acknowledge that "things may well be looking more stable if insurance-company profits are the only measure." Hospital revenue has increased significantly since the passage of the Affordable Care Act. Additionally, there has been a growing consolidation of the healthcare industry through mergers and acquisitions.
___
https://ballotpedia.org/Scott_Rasmussen's_Number_of_the_Day