THE REASON THEY ARE TRYING TO BUTCHER TRUMP RIGHT NOW, AND THE CULPRIT IS ISRAEL
Jim Stone
Just in case Israel does this anyway, this was posted on May 17 at 7 AM cst.
I believe this leak is highly credible.
Israel hatched another new 911 terror plot, and Trump shut it down. Here is how the story line was supposed to go:
"Terrorists were going to board a U.S. bound plane from Europe, with laptops. They were going to hack the plane with their laptops, and do a second 911. When Trump mentioned terrorists with laptops to Russia, and to get them off of planes, and then Trump banned laptops on flights to the U.S., he shut down the Israeli terror plot."
The plot was obviously as fabricated as 911.
I do not know who leaked it to Trump, but Kushner is close enough to all of it to do it. And even if Trump did not know it was Israel (highly probable he did not know) even if Trump thought it really was an independent terror plot, the end result was that him telling Russia to get laptops off their planes, shut it down.
SO THAT is the HUGE "Trump Russia intelligence leak" and Israel is PISSED AS HELL ABOUT IT, because they had a whole new plan, and now it will not go forward.
The original source is posted below: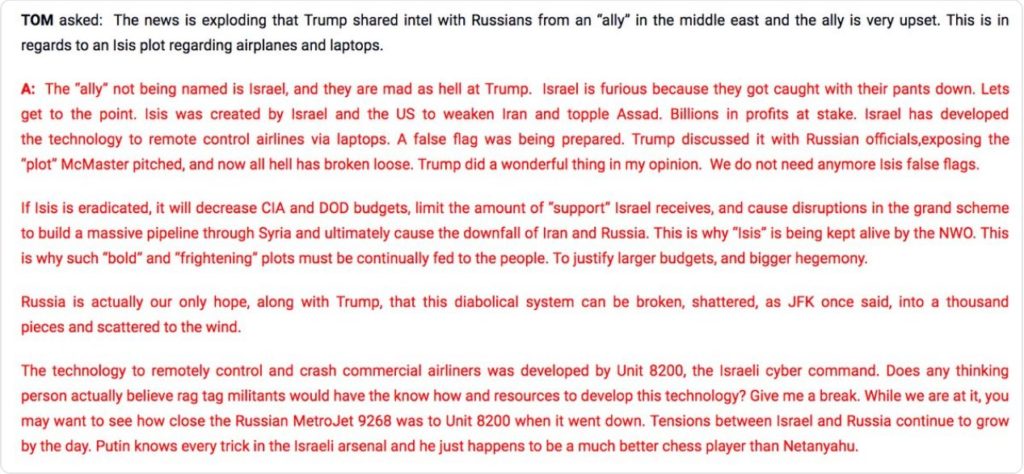 ---
—
https://twitter.com/AlternativViewz/status/864680715673272320
___
http://82.221.129.208/baaasepaget1.html