Obama's Trade Deals Show He's Out Of Touch With The Real World, Dem Says
Michael McAuliff
The Huffington Post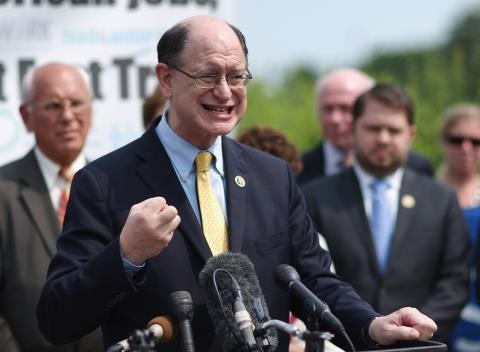 WASHINGTON — President Barack Obama backs a corporate trade agenda because he no longer lives in the real world, Rep. Brad Sherman (D-Calif.) charged Wednesday as Congress was set to take the next steps to give the president fast-track trade authority.
Speaking at a press conference with activists and fellow Democrats who want to block Obama's push to sign massive trade pacts with Europe and Pacific Rim nations, Sherman and others were asked why Obama was pushing so hard for something his party faithfuls oppose vehemently.
"We are out seeing the real world. We're in our districts," Sherman said. "We don't live in a cloister where the only people who can get in are the captains of industry and the titans of Wall Street."
Most Democrats argue that past trade deals have cost America millions of jobs, and that the proposed Trans-Pacific Partnership, the Transatlantic Trade and Investment Partnership, and other looming agreements would mean more of the same, despite administration claims to the contrary.
Sherman and a string of other Democrats all argued that Obama should walk the streets of their districts, look at the closed factories and see if he still agrees with the corporate stakeholders who have access to the Oval Office and the ongoing, secret trade negotiations.
"The president should trust us, his 200 most fervent supporters, who, unlike him, have a chance to get out and see the real world," Sherman said.
He was sure that the Obama who was a state senator from the South Side of Chicago would have opposed the new trade agreements, as did presidential candidate Obama in 2007.
"He had the same values 12 years ago, so that doesn't change," Sherman told The Huffington Post. "So what's changed about the president, that hasn't changed about me?"
"I got the same job I had 12 years ago. I'm seeing the same people. I'm standing outside the concert where you can hear the Beatles tribute band. So if you want to skip 'I Wanna Hold Your Hand,' you can come talk to me," Sherman said. "The president's life has changed dramatically."